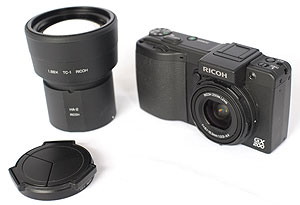 Reviewing high end Ricoh digital cameras is turning out to be an expensive business for us.
The first time we took a look at one – their fixed lens Ricoh GR compact – we ended up liking the camera so much we went straight out and bought the ruddy thing (but only after Ricoh had prised the review model out of our cold, snapping hands).
What got our apertures flapping about the Ricoh GR was its SLR-like controls, full manual exposure options, old school fast fixed lens and no-frills looks that made it a street shooters dream.
Once we'd shelled out the not inconsiderable £350 for the GR we found that it quickly earned its keep, becoming our favourite, carry-everywhere compact.
Ricoh GX100
A year or so later, Ricoh released their GX100 compact which, despite its obvious similarities to the GR, was touted as a replacement for their more consumer orientated GX8 camera.
Although both shared the same discrete matte-black looks, the most biggest immediate difference between the GR and the GX100 was the inclusion of a zoom on the GX100, starting from an ultra wide-angle 24mm to a portrait-useful 70mm.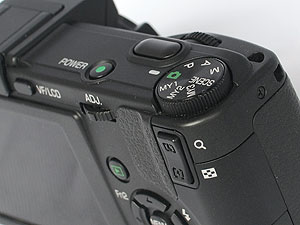 Although clearly not ideal for hunters of the lesser-spotted, purple headed sparrow or sports fans, this compact zoom range offered a perfect range for architecture fans, street shooters and landscape buffs.
The option to shoot in RAW (albeit with a 7 second gap between shots) underlined the camera's upmarket aspirations, along with the same fantastic twin dial control system and vast array of manual controls offering SLR-like control.
Also of interest was the optional Electronic ViewFinder, which we suspect, proved something of a 'love it or hate it' affair for photographers.
Clipping on to the camera's hotshoe, the EVF supplemented the 2.5″ LCD screen and let you snap shots with the viewfinder right next to your eye – Cartier Bresson style – with all the relevant exposure info displayed onscreen. The quality wasn't particularly wonderful, but we found it useful on certain occasions and we also liked the natty articulated feature which lets you shoot ground level pictures.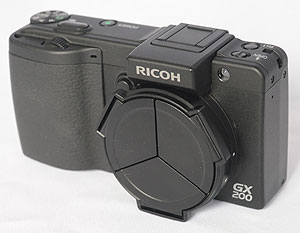 We ended up loving the camera so much our wallet creaked open once again, and it's become out carry-everywhere digital compact of choice ever since, with the GR being relegated to social snapping.
Ricoh GX200
Announced a few months back, the GX200 served up the same useful palette of pro-pleasing manual controls in the same 25mm thin rubberised case, hiking up the resolution up to 12 megapixels, and promising improved noise reduction with their new Smooth Imaging Engine III image processing engine.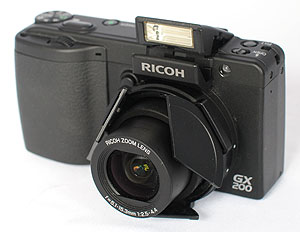 The same image stabilised 24mm-72mm lens is also onboard, while a larger 2.7-inch, 460,000 pixel HVGA LCD screen can be seen on in the back, with the folding EVF also optionally available. There's also optional 19mm wideangle and 135mm tele conversion lens available.
The GX200 can now rattle off images at 5fps with an improved RAW mode allowing continuous shooting for up to five RAW format images at 1.18fps. The RAW files are saved in Adobe's DNG format, which means just about any RAW editor will be able to process the files.
We found the addition of user-defined presets a revelation to fast shooting in the RX100, and the updated camera builds on this functionality, offering two one-push mode change function buttons, letting you, for example, swiftly jump from JPEG to RAW shooting or from colour to B&W.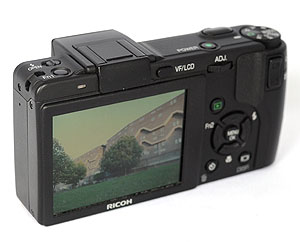 Keeping the creative optrions flowing is the 'ADJ' controller on the rear lets you quickly access five user-defined settings by spinning on the rear control wheel.
There's a new light intensity adjustment function (-2.0 EV to +2.0 EV) and '1st Curtain' and '2nd Curtain' flash options, with the ISO sensitivity range now accommodating an ISO 64 setting.
We particularly liked the electronic level inherited from Ricoh's fixed focal length GRD2 digi-compact – this uses an acceleration sensor to help keep the camera body perfect horizontal or vertical, with audio confirmation.
Check back tomorrow for part two of the review with our conclusion and scores.