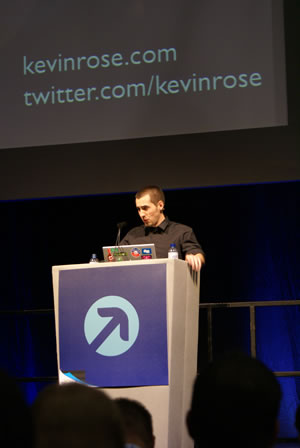 Reporting live from the Future of Web Applications conference being held today and tomorrow at ExCel in London. Refresh your browser to read live updates.
Sharing and Discovery
[10:23:12] This is from the Digg point of view
[10:23:50] Unanswered question – who to create an 'experience' you like.
[10:24:18] Sometimes news on Digg isn't of interest to you
[10:24:54] 30 million people visit a month – only 3 contribute
[10:25:22] How can this be enhanced?
[10:25:51] How can we get the Digg content out to other people – those who would be interested
[10:26:07] How to raise the quality of comments
[10:27:12] There's two type of info coming to you – IM, email, etc
[10:27:30] And unfiltered – Digg, bookmarks, etc
[10:28:17] Bit in middle missing – people you agree with, but you don't know who they are – Similar Users
[10:29:17] Other people who have Dug stories the same as you before – join up them automatically using historical data
[10:29:39] (Is this obvious?)
[10:30:28] When they carried it out – Friend adding activities has increased 4x. Digg activity up 40%
[10:31:18] By opening up taxonomy is the way
[10:33:28] How to promote conversation between similar uses – smaller groups
[10:34:54] In near future – When you Digg, you'll see how many others, in small groups, also see you recommendation.
[10:35:29] When you Digg, it will be submitted to your other public facing sites – facebook, MySpace, etc
[10:36:55] Work with other publishers (BBC). Know their content and make recommendations of other historic stories in their inventory that users might like.
[10:37:10] (Talk over already – now QA)
[10:38:08] (Summary of talk, we're going to leverage our Digg users in an attempt to make more money from them)
[10:39:37] (Currently not sure that I've discovered the future of news)
[10:40:02] (Hoping QA will provide more)
[10:40:48] Q – do you worry if we're narrowing people's horizons?
[10:42:05] A – we'll expose people to who else (geo, demographic, etc) are looking at the popular stories.
[10:43:20] Digg also have a 'taste maker' category (not public) that are good at predicting stories. We'll use them to predict trends.
[10:43:49] (He didn't really answer the diversity content)
[10:44:44] Q – London paper: we're having fun watching how bizarre people's viewers interests are.
[10:46:07] A – local news – very hard for Digg as local, niche news site are so strong.
[10:47:03] Q – how are you making money?
[10:47:19] A – A three year ad deal with Microsoft
[10:47:53] Everything is currently display ad based
[10:48:06] We can't talk about the rest yet
[10:48:37] Q – I what about India?
[10:49:45] A – we're seeing competition in some Euro countries and will use some of our C round funding to expand abroad.
[10:49:55] Finish
[10:51:08] (Felt like he really didn't want to give anything away)
(All typed and sent from a Blackberry Curve)