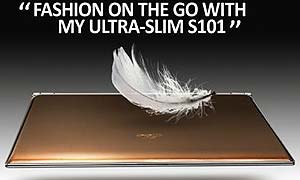 Freed from the shackles of being lumped in with its ever- expanding, cheapo Eee range, Asus has whipped out a sleek, slim netbook for those folks that like a dash of style when they're tapping away on a wee lappie.
The Asus S101 has been officially set for an early November release and it's a bit of pricey number at £449 – but that's still well under half of the price of the Mac Air, and it's certainly a better connected notebook.
The netbook comes with an Intel Atom 1.6GHz processor, Intel 945 Express (GMA 950) graphics, 1GB of DDR2 RAM, three USB ports, a built-in 4-in-1 card reader, RJ-45 Ethernet socket, Wi-Fi, Bluetooth and an user-changeable battery (got that, Apple?) with a claimed battery life of around five hours. It all looks sweet to us apart from the crappy 0.3-megapixel webcam.
It's stick-thin at just 18-25mm thick, with a 10.2-inch screen offering up to 1,024 x 768 pixels resolution. Asus's multitouch trackpad is onboard and the keyboard is rumoured to to be a vastly improved number.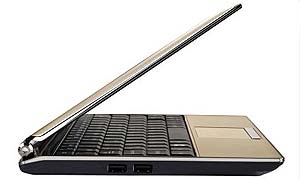 The S101 will be available in a Windows XP Home version (16GB SSD plus bundled 16GB SD card) and two Linux versions packing in 32GB or 64GB of SSD, with graphite, champagne and brown colour options.
We could see execs rather liking this Asus: seeing as most of them only ever need a laptop for looking up and writing reports, sorting out email and browsing the web, the Asus is well up to those jobs and has boardroom-wooing looks to match.