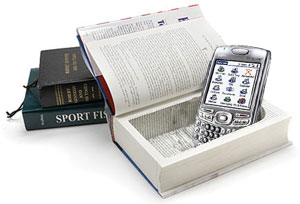 Mobile operator titans Vodafone are letting rip with a literary blast blasting the book world with their new service bringing books to mobile handsets.
The service will offer books to perambulating punters at a cost of a fiver to a hefty fifteen quid (what?!), with the cost of purchases lobbed on to the user's monthly Vodafone bill. Thanks to nippy 3G/HSDPA technology a three-hour audio book can be downloaded in three minutes, and with shiny new smartphones like the iPhone and Android serving up bigger screens, reading a book on a phone becomes less of a chore.
The service is a partnership between Vodafone and books-to-mobile firm GoSpoken.com, which was co-founded and co-funded by the macho former SAS author Andy McNab, and Tony Lynch, the managing director of the company.
Speaking to the Times, McNab explains that he met Lynch through a mutual friend: "We met for a drink and were playing about with how we could combine story-telling and technology. Finally he said: 'Let's have a look at books on mobiles.' "
Launching their idea with three 15-minute short stories recorded and released on iTunes by the former SAS toughie, the big hits came quickly: "They became the three top selling audio stories on iTunes for three to four months. We thought… the concept's really working, so we started to look seriously at mobile phones."
With the first flush of success flapping in their sails, the dynamic duo went on to have sign up every leading publisher in Britain, including Penguin, Random House and Harper Collins, and are currently engaging some big European names in a contractual pincer movement.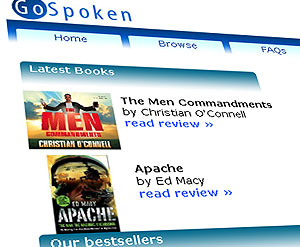 "Sometimes we wonder if it's just us that think this is great and it won't catch on," Mr McNab mulled, "but there's not a single person we've gone to – a publisher, retailer or operator – who hasn't got it."
A cheaper option
Of course, old mobile hands like ourselves have been downloading and reading books on mobiles for donkeys years, with the de facto program on our Palm Centro being the Plucker/ Sunrise XP combo.
This fantastic freeware combo lets you download websites (or individual pages) from your desktop, with the Reader also handling eBooks with tons of free books ready for your reading pleasure at the Project Gutenberg).
The viewer runs on PalmOS devices, with the Sunrise desktop tools supported on Linux, Windows, Mac OS X, and OS/2.