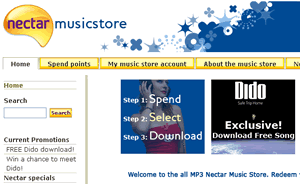 A new way of getting music has launched in the UK.
As Nokia launches their 'music with phones' offering today and T-Mobile/Google offered music for the G1, we've heard of another company using music to tempt people towards their product.
Nectar, who provide a loyalty card which gives points against purchases, have launched Nectar Music Store in the UK. We understand that it's the first in the UK using loyalty points as track-buying currency.
Rather than 'spending' the Nectar points that punters have built up on their account on bizzare objects that at the time of browsing the catalogue looked really useful, like an apple toaster or a jam chiller, they can use them to get MP3 music tracks.
Cool to see that the tracks are MP3 format and don't have DRM smothering them – so they can be used on any music player, phone, etc.
Free stuff 'n' t'ing
As a special offer — and we suspect it's to get you signed up — they're offering a free, exclusive tracks from dear old Dido.
Not only that, but there's a chance to get whisked off with a mate to the US of A to meet the lady in question in a competition that they're running in parallel.
If you don't have enough Nectar points, you can still enter the comp … but hurry because you need to have done it by the 15th October.
HIP Digital Media is proving the tech and the tracks behind the service and from reading their site they plan to be providing a similar music services to lots of other companies too.