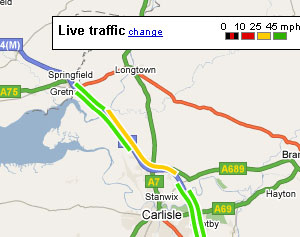 We're huge fans of GoogleMaps, so we're chuffed to see us folks in Blighty being offered some of the treats that our Stateside cousins have been enjoying since last August
Google has finally added traffic updates to their mobile mapping service, although only England gets to join in the fun, with the information hitting a blank as soon as you drift over into lovely Scotland, and the land of the true Britons, Wales.
The service is also currently limited to just motorways and major A roads in England, with Google Maps offering a colour-coded guide of traffic on your route. If it's marked red then you can expect slow traffic and monster queues, whereas if it's green, you can gleefully hurtle along empty highways with a heavy metal soundtrack on the CD player, just like they do in the car ads.
Cunningly, Google stores daily traffic information, allowing it to make congestion predictions at any time of the day based on past experience.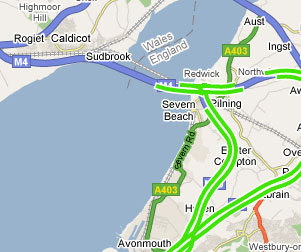 There's no word yet on when the service will be extended to the rest of the UK, so drivers heading up to Glasgow or lovely, lovely Cardiff will have to hope for the best once they cross the border.
Google propose open networks for all
In other Google news, the company are busy shaking the tree of wireless operators with their vision of an open wireless network where phones won;t be tied to any single mobile phone network.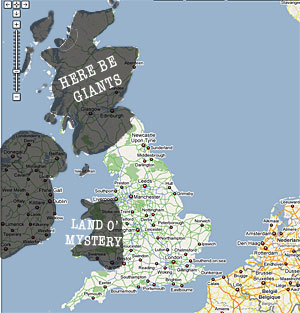 The patent application with the US Patent Office would let users hop skip and jump onto any network which offers the best service at any time, with operators bidding to provide the most competitive pricing for the call.
Read more here: Google's vision for an open wireless world