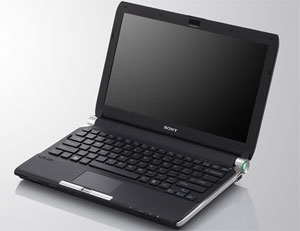 Woooargh! Look at this beauty!
This laptop has such mean, bad boy looks that it could probably take out Clint Eastwood, Lee Van Cleef and Yul Bryner in WestWorld in a single flip of its foxy carbon black lid.
Welcome to Sony's new VAIO TT notebook, a wallet crushing, high end lappie for credit-crunch resistant folks, sporting an 11.1-inch widescreen display with Sony's XBRITE-DuraView LCD technology packing an energy-efficient white LED backlight and optional Blu-ray recorder/player.
Sony say that display's 16:9 aspect ratio is ideal for Blu-ray Disc movies and there's also an HDMI output connector for hooking up the wee lappie to a beastie of a plasma screen or projector for extra pixel joy.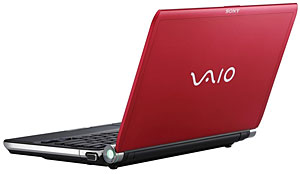 Purring along on an Intel Centrino 2 processor, selected VAIO TT notebooks feature a dual channel 256GB (128GB X 2) solid state drive (SSD) with RAID technology for nippy boot-up times, faster application launches and overall souped-up performance.
The laptop comes with integrated wireless Wide Area Network (WAN) technology for US Sprint Mobile Broadband Network users, although it'll cost them subscription fees on top.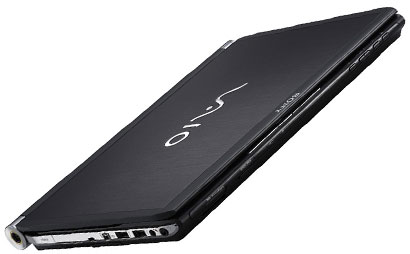 The Vaio comes with the choice of Windows Vista Home Premium, Vista Business and Vista Ultimate operating systems with – huzzah! – Windows XP Professional being available on select models.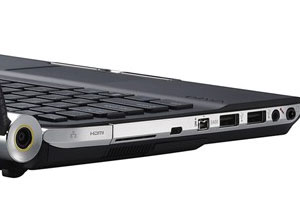 The TT model range starts emptying your wallet at $2,000 for the basic version, rising to $2,700 for the Blu-Ray version, while the SSD model (128GB) will take your bank balance around the block for a jolly good beating and leave your fiscal empire $2,750 worse off.
The laptops are available in a premium carbon black, silk black, champagne gold and crimson red colours and will be released in time for the golden brown hues of Autumn. Or 'Fall' as strange Americans call it.