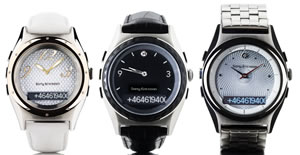 Sony have introduced Bluetooth watches for women that have control over mobile phones.
We all know that lots of women keep their mobile phones in the handbags rather than stuff them in the back pockets like men do and most of them don't clutch them in their mits a-la Paris Hilton.
The downside of them being in a handbag is that the chances of knowing that the phone is actually ringing is significantly reduced. Far from ideal.
Sony Ericsson have tied up with watch designers Fossil to bring a possible solution.
Today they're announcing the MBW-200 range of Bluetooth watches for da laydees which enables to control of the mobile handset in a surprising number of ways.
Lots of control over mobiles
First off, the watches show the phone number of the person calling or texting and helpfully vibrate to draw attention.
Using the buttons on the watch, it's possible to control the mobile phone, like rejecting or muting calls.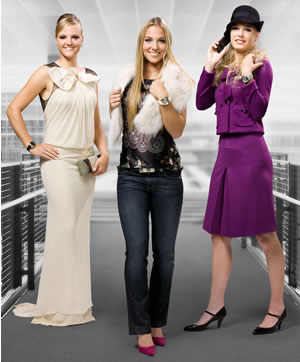 Not only that, but the buttons can be used to control the music on your mobile handset. With a push of a button, the music track playing can be changed, using it as a music remote control when your phone is on the other side of the room. The volume of the music can also be changed. All pretty darn cool.
Given the need to send and receive Bluetooth, the watches have to be charged with the provided CST-60 charger.
Celeb-tennis-tastic
In this celerity obsessed world, they've hooked up with three different female tennis players to "show how each MBW-200 watch has a distinct personality to match anyone's personal style and fashion tastes."
The three phones, sized 37.3 x 39.6 x 14 mm, are called Sparkling Allure Edition; Contemporary Elegance Edition and the Evening Classic Edition.
All three will be coming to shops near you in Q4 this year.