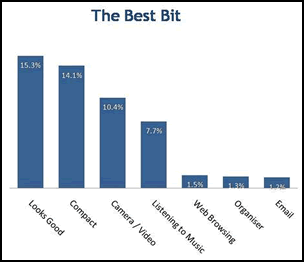 Decide What To Buy have an interesting piece about "The truth about mobile phones."
They've gone out and asked 31,000 people about their mobile phones and collated the info.
It reveals what we all knew really, that people primarily buy phone for what the look like.
15% of people love the way their phone looks above any other feature. One of the sexiest phones seems to be the LG KU990 Viewty – 31% of purchasers rated its look above all its other offerings. And fat phones are a no-go – 14% boasted about how their phone's compact size was a winner.
We're all-round big fans of the LG Viewty and it looks like Decide What To Buy's survey have found that we're not alone in our thinking. This is boosted higher by people ranking the quality of camera as the third most important feature.
The iPhone was left out!!!! but they published their findings of it subsequently, of Apple-nuts can stand down from panic mode.