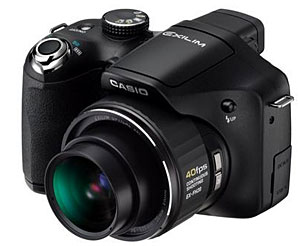 Looking to snaffle a slice of HD action is Casio who have just announced their new Exilim EX–FH20 digital camera.
The SLR-like compact snapper certainly packs in the consumer-wooing features, sporting a 9.1MP sensor and an almighty 20x optical zoom, starting off at a modest 26mm wideangle setting and zooming in to a tweety bird-bothering 520mm – great for wannabe paparazzi stalkers – with optical image stabilisation trying to keep things crisp.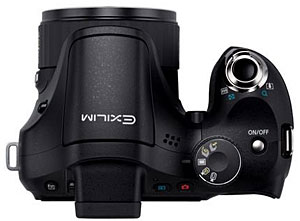 Aimed at the point'n'shoot brigade, the controls are kept simple on the top plate, which features just a mode dial, on/off switch and combined shutter release with zoom control.
Things get a bit more interesting in the video department, with the EX–FH20 offering 720p video shooting and a truly bonkers ultra high speed 1000fps video mode for super slo-mo video playback. We can't think of any reason why we'd use it, but I guess proud parents keen to squeeze every single ounce of excitement from their little Timmy's winning goal on the school playing fields may find it useful.
It's a bit of a speedy fella all round, with a breathtakingly fast top still capture speed of 40fps, with images captures in this burst mode being recorded at 7MP. The high-speed film mode can also work in HD film mode, capturing movies at 1280 x 720 pixels/30fps.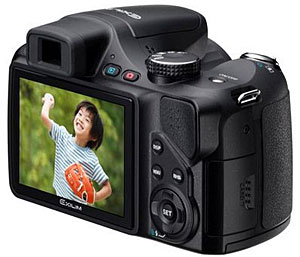 The Casio Exilim EX–FH20 is scheduled for an October release with a price of £399.99
First impression
It's a neat looking camera, but unless you really need that crazy high speed shooting, we'd suggest taking a good look at some of the alternatives like the Finepix S100FS – or if you can live without the video mode, you'll get much better results with any of the budget dSLRS on the market.