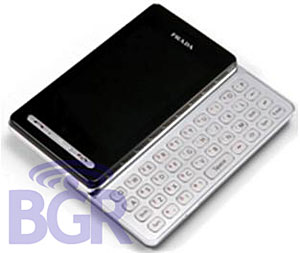 We're still not sure if this is the work of a busy Photoshop bee or the real thing, but a photo of what looks like the new Prada II smartphone has begun shimmying around the InterWebBloggy thing courtesy of the Boy Genius Report.
The new quad-band GSM/EDGE, dual-band HSDPA (850MHz/2100MHz) handset looks to have a slide out QWERTY keyboard and a 3″ screen serving up a rather disappointing, sub-iPhone 240×400 pixel resolution.
Lurking inside the high end phone is a veritable feast of high end features, including a 5 megapixel autofocus camera with flash and VGA recording, Bluetooth 2.1, Wi-Fi b,g and Infineon MP-EH + M180 chipset, although the battery life doesn't look like it's going to too promising with only a diminutive 950mAh battery fitted.
There's also a motion sensor onboard for some shake and shuffle action and a FM Radio packed into the phone's 104.5 x 54 x 16.8 mm dimensions.
There's no news about pricing or a European release yet, but we'll give you a shout as soon as we get some info.
Google phone to flop?
Also expected to be out in the wild soon and on-course to cause a bigger stir is the eagerly anticipated first Google phone (the 'GPhone), running the Android operating system.
The Mobile Today website is predicting that the phone will be launched in the UK on T-Mobile in time for the Christmas cashtill frenzy, with a release date possibly as early as November.
Although the first Android phones are yet to hit the market, the Silicon Alley Insider is already declaring the GPhone to be 'a flop' while the FT was predicting that the phones will arrive with 'a fizzle rather than a bang.'