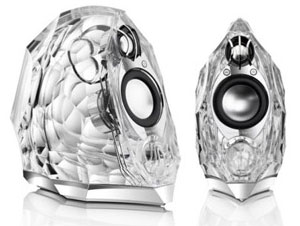 For cool cats who demand the iciest of speakers, Harman Kardon's delightfully daft GLA-55 two-piece computer speakers could be just the thing.
Looking like they've been hewn out of a chunk of Titanic-sinking pure iceberg, the see-through speakers certainly catch the eye and the Harman Kardon dudes love them so much that they've lobbed the Big Book Of Modesty on the bonfire, proclaiming their icy creation as being, "arguably the best 2.0 speaker system available today."
Lobbing a few more rocks of pure PR into their hyperbole pipe, the Kardon crew promptly hit blather overdrive, insisting that their GLA-55's would form a "stylised multimedia focal point, boasting breathtaking beauty, functionality and impeccable sonic performance."
We're not sure if even Mr God's sound rig could live up to that frothing eulogy of audio nirvana, but we can tell you that the Harmon Kardon's come with a 100-watt bi-amplified digital amplifier coupled with DSP equalisation.
Messrs Harmon and Kardon are also promising to send audiophiles into convulsions of unstoppable audio ecstasy thanks to cunning in-house technology such as Atlas AL drivers and woofers and a CMMD tweeter, touch sensitive volume controls and boffin-pleasing sonic tweaks for extracting the maximum joy from each byte of digital sound.
The GLA-55 system should start melting their way into the hearts of shoppers from autumn 2008 worldwide – but there's no news of pricing yet.