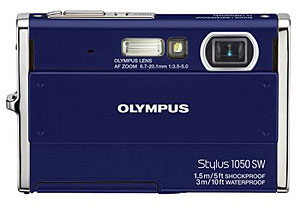 Like a Stella-frothed pub drunk at throwing out time, the Olympus Stylus 1050 SW reckons it's so tough it virtually begs you to come and have a go to see if you're hard enough.
Olympus reckons that the wee little fella can take whatever you want to throw at it, with the waterproof, shockproof, and freezeproof shooter being designed for extreme environments and rough use. This diddy snapper's so hard it'll laugh in the face of five-foot drops on to hard ground and roll around in snowstorms for fun.
An update from the Stylus 1030 SW, the 10.1-megapixel Olympus offers the neat Tap Control Technology, which lets users navigate the controls even when wearing the big wooly mittens their Nan knitted them for Christmas.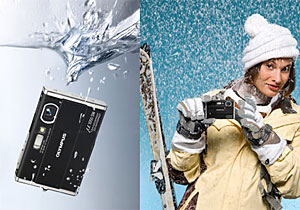 The camera's 3D accelerometer cunningly detects the direction of the force on the camera's body, so you can turn on the flash or Shadow Adjustment Technology by tapping the camera's side twice rather than fiddling about with itty-bitty sub menus, dials, buttons or whatever.
Here's Nadine Clark, product manager of Olympus Imaging US to tell us more about it:
"Consumers are familiar with motion-sensor technology from popular videogame controls that translate physical motion into electronic commands. The Stylus 1050 SW employs similar technology. Adjusting the camera settings is intuitive, because the whole camera reacts to the way it's tapped."
The camera comes with a 2.7″ LCD screen, 3X optical zoom, ISO sensitivity of 80 to 1600, face detection, in-camera panorama mode, smile shot function, xD-Picture Card and microSD Card slots, TruePic III image processor and – thanks to its built in anti-freeze – it can snap away at ultra-parky temperatures of -10C.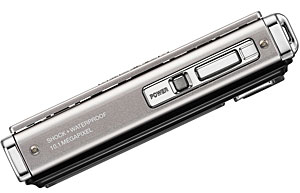 Other features include Olynpus's Shadow Adjustment Technology which compensates for extreme contrast in shadow areas, and Perfect Shot Preview, which lets users preview and select various photographic effects on a live, multi-window screen before snapping the shot.
The Olympus Stylus 1050 SW will be available in blue, champagne, silver and black finishes and should be shuffling on to shelves with a price tag of around 200€ in October.
Olympus 1050 SW specifications
Sensor 1/2.33″ Type CCD, 10.1 million effective pixels
Image sizes 10M 3648 x 2736 – VGA 640 x 480, 16:9 1920 x 1080
Movie clips 640 x 480 / 15 fps Recording time: 10 sec
320 x 240 / 15 fps Recording time: 29 min
File formats • JPEG (EXIF 2.2), AVI Motion JPEG , WAV audio
Lens 3 x, Focal length (equiv. 35mm) 38-114 mm
Aperture 3.5 – 5.0
Image stabilisation Yes
Focus TTL iESP auto focus with contrast detection, Face Detection AF, Spot, Standard, Macro, Super-Macro
AF assist lamp Yes
Focus distance Standard mode 0.5m (wide) / 0.5m (tele), Super Macro mode: 7 cm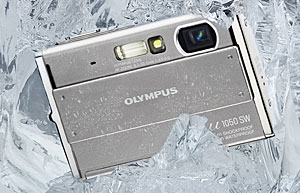 Metering ESP light metering, Spot
ISO sensitivity Auto ISO 80 – 1600 Automatically selected
Manual ISO 80, 100, 200, 400, 800, 1600
Shutter speed 1 s – 1/1000 s
Aperture f3.5 – f5.0
Scene modes – loads of them
Self timer Yes
Flash Auto, Red-eye reduction, Fill-in
LCD monitor 2.7″ / 6.9 cm LCD, 230,000 dots
Storage xD-Picture Card and microSD Card compatible
Weight (no batt) 152g
Dimensions 93 x 62 x 22.6mm