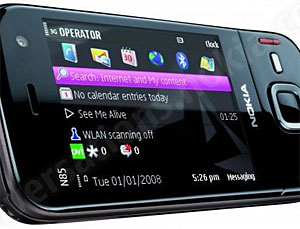 Nokia has officially announced two new handsets for the UK market, the N85 and the N79, with both expected to be diving headlong into the pockets and handbags of Brits sometime next month.
Nokia n85
The sleek looking N85 comes with a 2.6-inch AM OLED offering QVGA resolution (that's a distinctly underwhelming 240 x 320 pixels) with support for 16 million colours, plus generous connectivity options in the shape of HSDPA, Wi-Fi and Bluetooth and an included 8GB card.
Lurking on the back of the shiny black beast is a beefy 5 megapixel camera, which comes with geotagging capabilities. Extra multimedia goodness comes with dedicated N-Gage gaming keys with the phone packing 'at least 10 pre-loaded demo titles,' plus one licensed game lobbed in for free. Too kind Nokia!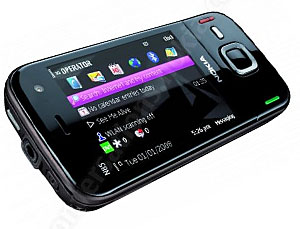 There's also a novel FM Transmitter built-in which lets users broadcast wirelessly over short distances, like to a compatible FM radio.
The phone purrs along on the long serving S60 3rd edition operating system and there's GPS plus Nokia Maps 2.0 onboard, direct access to the Nokia Music Store, dedicated music keys, 3.5mm headset connector (huzzah!) with Nokia reckoning the battery will keep you grooving to the music for up to 28 hours.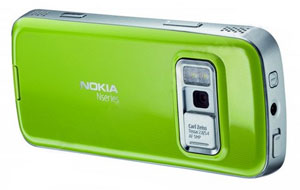 Nokia N79
Pictured in a barfy, lurid lime green finish, the entertainment-focused candybar N79 packs a similar feature set to the N85.
For those fearful of a colour clash with their outfits, Nokia kindly bundles in three different colour covers backed by selectable phone themes to make sure everything is just so. Cunningly, the onscreen colours change automatically when the covers are clipped. And that's magic.
The handset also comes with the same music keys and Music Store support as the N85, and there's also a 5MP camera with Carl Zeiss optics, dual LED-flash, FM Transmitter and geotagging support.
Battery life for pop-picking music lovers is a little less at 24 hour-tastic, with Nokia Maps 2.0 and a 4GB microSD card bundled with the package.
The N79 will knock out for around €350 (£279), with the N85 setting you back €450 (£358).