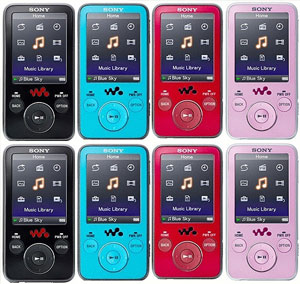 Sony New Zealand (of all places) is the first to release details of the company's new E series of MP3 players, each sporting
a 2.0 inch QVGA TFT LCD screen supporting 262,144 colours.
The players come with three different memory capacities, with the NWZ-E435 offering 2GB, NWZ-E436 4GB and the top of the range NWZ-E438 serving up just 8GB of storage (come on Sony – folks are getting used to 16GB and 32GB capacities now and 8GB is, like, sooooo 2007).
The players should slip into pockets with consummate ease, measuring just 8.5mm slim and weighing a mere 50g.
Sony have wedged on an FM tuner (we like that) and there's support for MP3, WMA, AAC and Linear PCM codecs.
The all-important battery life should keep punters amused for the longest trips, with Sony rating it good for nearly 77 hours (or 1150 songs) when playing tunes burned at a screechy 48kbps. This goes down to a more realistic 29 hours/440 songs at the more common 128kbps or just 175 songs/11h 40m (320kbps) for hi fi quality playback.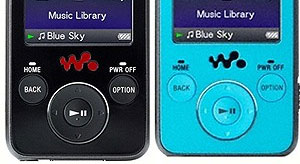 Battery life for video is rated at just over 7 hours at 384kbps video dropping to 4 hours at 768kbps.
Tunes and videos can be dragged and dropped onto the device, and there's compatibility for Windows Media Player and iTunes.
International pricing and release dates haven't been released yet, but according to Sony Insider, the cheaper 2GB NWZ-E435 will be available in black or pink, the 4GB NWZ-E436 will come in a choice of black, blue, pink or red, while the priciest 8GB NWZ-E438 will be only come in moody black.