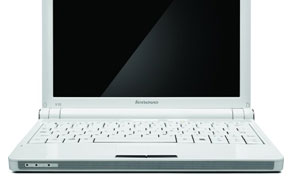 Coming a little late to the netbook party but still hoping that its celebrity name will guarantee a good seat at the table is Lenovo, who have just announced their IdeaPad S10, a 10-inch mini-notebook running the 1.6GHz Intel Atom chipset.
Although it's YARN (yet another ruddy netbook) that looks the same as the rest of them, Lenovo have an excellent reputation for the quality of their products, so this 2.4 pound 9.8″ x 7.2″ x .8-1.08″ little wonder might be worth taking a look at.
There's no news of a UK release date yet, but two configurations have been confirmed for the US, with the $399 model offering 512 MB of RAM and a 80 GB hard drive, while the pricier $449.99 jobbie will pack 1GB of RAM and a 160 GB hard drive. The system specs suggest that the system will support up to 2GB of RAM so it should be easy for users to upgrade.
The IdeaPad will initially only come in Microsoft Windows XP flavours, but Lenovo have stated that a version running Linpus Linux will be available in other countries.
One of the biggest pains with mini-netbooks is the finger-fumbling mini-keyboards, but Lenova are claiming that the S10 comes with a keyboard just 85 percent of the size of a 'full-function notebook keyboard'.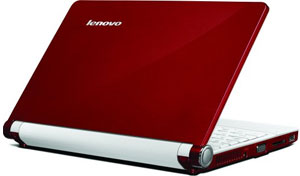 Lenova's trademark trackpoint is nowhere to be seen, although the reasonably large touchpad offers dedicated right and left mouse buttons with support for multi-touch gestures.
The IdeaPad comes with a 10-inch 1024×600-WSVGA resolution LED backlit screen, twin speakers, Bluetooth connectivity, 802.11b/g, LAN, VGA out and a handy Express Card perfect for slapping in a mobile broadband card.
There's also a 1.3-megapixel webcam onboard plus mic, headphone slot, 4-in-1 card reader and a rather disappointing 2 USB ports.
The all-important battery life is claimed at 3 hours for a 3-cell battery, and 6 hours for the bigger 6-cell jobbie.
The IdeaPad S10 will come in white, black and a stylish glossy ruby red number for the fashionistas, and is expected to flap its way on to retail shelves in the U.S. on 28 September.
A version of the S10 with a smaller 9-inch screen will also be available in Hong Kong, Taiwan, Russia, Singapore, Malaysia, Vietnam, Mexico, India, France, Turkey, Poland and other selected countries.