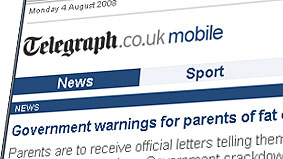 UK broadsheet the Daily Telegraph is dumping its paid-for online subscriptions and making all its online content available for free from today.
The new service will complement the existing news, football and cricket alert services offered by Telegraph Media Group (TMG) and offer news, sport and travel mobile content for users strutting the streets with 3G and WAP-enabled phones.
The new Telegraph mobile offering ties in with a revamp of their main web site, with their digital publishing and content management system, Escenic, powering both sites.
The mobile site will sport a simplified design retaining the familiar gothic masthead, and serve up lean'n'mean pages of fast-downloading text and images and a simplified navigation.
More multimedia content for the mobile site in expected to be added in months to come, with the new Escenic technology enabling developers to monitor traffic user figures and the popularity of mobile content.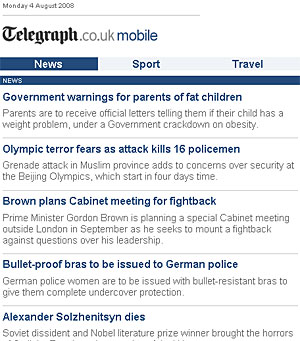 The Telegraph has said that there'll be no pesky adverts festooning the mobile site (hooray!) although they may be introduced to the site as it grows (boo!).
Aashish Chandarana, the product development manager at TMG, commented that the new mobile site reflected the areas of redesign on the main website, adding that, "as each section of the website gets a new look and feel, it will be added to the mobile site as well."