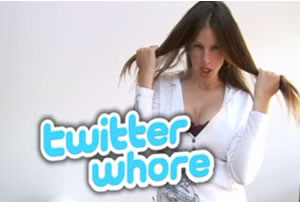 Lisa Nova is well known on YouTube as making amusing videos where she either plays a character or makes a joke of other people, at their expense.
Her latest target Twitter, or rather Twitter users.
Frankly it's an easy target as many of their Tweets (messages sent using Twitter) are pretty throw away, particularly between close friends. They're the kind of things that are swapped between friends via SMS – but SMS is private and Twitter streams are public.
It's of significant note that this is exactly the kind of criticism that has long been levelled against Bloggers — all blog posts are narcissistic, vacuous nonsense, etc — particular by the mainstream media (wonder why?).
Anyway … back to Ms Nova and her Twitter pop.
Twitter Whore
Her two part video is less-than subtly called 'Twitter Whore.'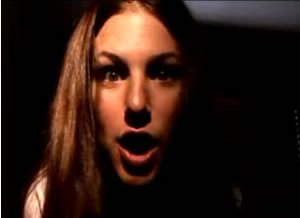 The thrust of it is that her character is putting out Tweets every waking moment of the day – not that far from some people's Twitter output.
While telling us about her cereal choices and how much she likes it, Twitter Whore takes every opportunity to ask people to 'Follow' her, Twitter speak for attracting fans.
Attention-tastic
It's obviously somewhat hilarious that Lisa Nova is accusing others of craving attention, when she's posted 88 videos to YouTube!
That aside – having watched her early YouTube posts, we say "hats off" to Lisa for keeping the quality of her mini-vids so high over the time and doing the wise thing of giving other people the platform to show their acting skills in her pieces. A great way of extending longevity.