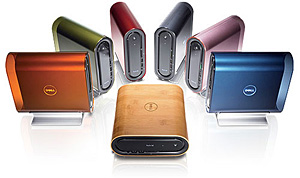 Dell have now released more details about their new Studio Hybrid mini-desktop PCs, and we're liking the look of them even more.
With a case barely larger than an external DVD burner, the Hybrid can be set up in vertical or horizontal configurations, with a warm glowing blue Dell logo reminding you where your money went.
Despite its diminutive dimensions, Dell has packed a heap of functionality into the bijou frame with a full complement of connectivity options available at the rear of the unit.
These include HDMI and DVI ports, SP/DIF and line-in and line-out for audio, gigabit Ethernet, Wi-Fi, a 4-pin FireWire 400,three USB 2.0 ports and a Kensington lock to stop someone half-inching the wee beastie.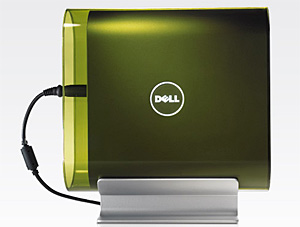 Spinning the unit around to face us, the minimalist unit sports a slot-loading 8X dual-layer DVD burner (there'll be an option to upgrade this to a DVD burner/Blu-ray Disc reader next month), a headphone jack, another two USB ports and an 8-in-1 memory card reader.
Inside, the Studio Hybrid is powered by Intel Pentium Dual Core and Core 2 Duo CPUs with storage coming in the shape of 160GB, 250GB, and 320GB hard drives.
Punters can choose between 1GB to 4GB of shared system/video memory and there's options for 802.11n Wi-Fi and a TV tuner but upgraders might be disappointed to find that the system is not expandable and there's no route to upgrade the graphics card.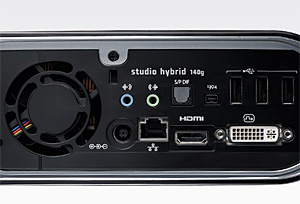 Dell manages to squeeze all this techie goodness into a pint sized box by using notebook computer components, yet without the usual hefty price hike associated with miniaturised PCs – the basic, monitor-free configuration starts at just £399.
Specs:
Processors
Intel Pentium Dual Core, Intel Core 2 Duo
Operating System
Genuine Windows Vista Home Basic
Genuine Windows Vista Home Premium
Genuine Windows Vista Ultimate
Memory
Up to 4GB 667MHz Dual Channel DDR2 SDRAM
Hard Drives
Up to 320GB Serial ATA Hard Drive (5400 RPM)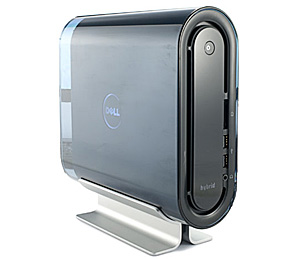 External Connections
IEEE1394 and/or USB 2.0 ports
Optical Drives
8X Slot Load CD/DVD Writer (DVD+/-RW)
6X Slot Load Blu-ray/CD/DVD Combo Drive
Graphics
Intel Integrated Graphics Media Accelerator X3100
Audio
Intel High Definition Audio 2.0
Optional Integrated Sound Blaster Audigy Advanced HD Software Edition
Wireless
Integrated
10/100 Ethernet LAN on system board
Wi-Fi Options
Built-in Draft-N Wireless Networking (Optional)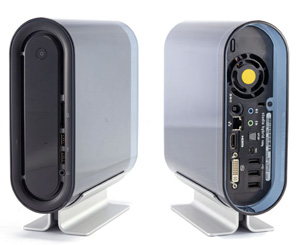 Externally Accessible Ports
Five USB 2.0 compliant ports
IEEE1394a port (4-pin)
HDMI video connector
DVI video connector
Integrated network connector 10/100/1000 LAN (RJ45)
AC adapter connector
Digital Audio: S/P DIF Out
Analog Audio: Headphone (front); Line-in / Line-out (back)
Dimensions & Weight
Length: 196.5mm (with sleeve)
Height: 71.5mm (with sleeve)
Depth: 211.5mm (with sleeve)
Weight: 2.18kg (with stand)
Security
Cable lock chassis security slot