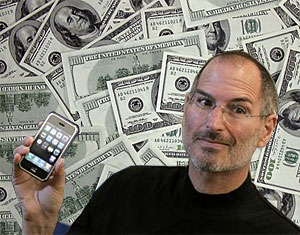 Unbridled bouts of iJoy erupted around Apple HQ yesterday as the company posted a hefty profit of $1.07 billion on revenue of $7.46 billion for its financial quarter ending June 30, 2008.
This whopping great bag o'cash adds up to Apple's best-ever June quarter for both revenue and earnings, with the company's total gross margin exceeding industry expectations, with $1.33 billion in cash being added to Apple's bulging coffers.
"We set a new record for Mac sales, we think we have a real winner with our new iPhone 3G, and we're busy finishing several more wonderful new products to launch in the coming months," gushed Jobs.
The company saw huge growth in computer sales over the quarter with a total of 2,496,000 units shifted, breaking down into 943,000 desktops and 1,553,000 laptop computers. That little lot added up to a 41 percent unit growth and 43 percent revenue growth over the same quarter last year.
In the US, Apple's computer market share increased to 19.5 percent from 15.4 percent last year, with their education business notching up their most successful quarter ever, seeing unit growth of 25 percent year-over-year.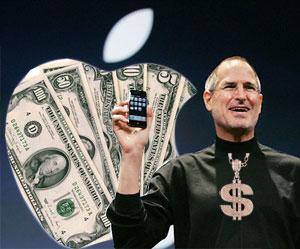 Apple CFO Peter Oppenheimer simply couldn't contain himself:, "We're thrilled with the momentum of the Mac business," he squeaked.
Over the last quarter, iPhone sales hit 717,000, compared to 270,000 in the same quarter last year. With hype levels set at 'stratospheric' leading up to the launch of the new iPhone 3G, the company managed to shunt out one million units in just three days, compared to 74 days for original iPhone.
Compared to the selling bonanzas elsewhere, iPod quarterly sales look a little more modest, although Apple still managed to flog 11,011,000 iPods during the quarter, representing 12 percent unit growth (10 percent in the U.S., and 15 percent internationally).
Apple's retail stores also raked in 1.44 billion in revenue, with the company opening eight new stores during the quarter.