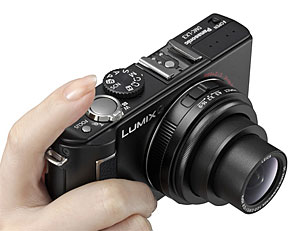 We've already talked about Panasonic's new superzoom camera, but to be honest we're far more interested in its new prosumer Lumix DMC-LX3 digital camera.
Aimed at pros looking for a carry-everywhere SLR back-up and mustard-keen photo enthusiasts who insist on manual options galore, the compact LX3 comes in moody black and no-nonsense silver colour finishes.
We really wanted to fall in love with the original 8MP Lumix LX1 when we reviewed it back in 2006, but the sleek lines and manual controls couldn't disguise the truly dire low light performance. We also had high hopes for its successor, the LX2, but the boost to 10MP resolution only seemed to highlight the camera's shortcomings in the noise department.
Promisingly, Panasonic have resisted the urge to leap on the escalating megapixel bandwagon, pegging the camera's resolution to the comparatively modest 10MP of its predecessor with their new 1/1.63-inch CCD promising improved low light performance.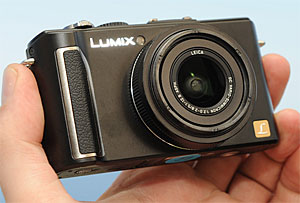 The pixel count may have stayed the same, but the glass looks to be a huge improvement, with the Lumix offering an ultrafast F2.0 LEICA DC VARIO-SUMMICRON lens covering an ultra wide-angle 24mm – 60mm zoom range.
The LX3 also incorporates the Venus Engine IV, which Panasonic claims will deliver improved signal processing with reduced noise in both luminance signal and chromatic signal processing.
The high ISO range has been bumped to an impressive 3200 at full resolution ('40% greater sensitivity'), with the camera able to capture 2.5 shots per second in RAW+JPEG mode.
A 'Film mode' replicates the effect of shooting with six colour types and three types of monochrome selections, while a curious 'Pinhole Camera' mode serves up desaturated, heavily vignetted images, if that's the kind of thing that rattles your camera bag.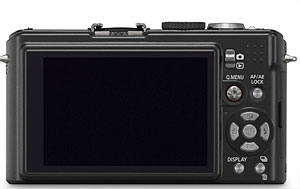 There's also Panasonic's full range of "Intelligent" modes on offer, including Intelligent Auto mode, AF Tracking, Intelligent Exposure, Digital Red-eye Correction, Intelligent ISO, Intelligent Scene Selector, Face Detection (up to 15 faces) and Quick AF.
The camera also packs a full mode-wheel for accessing full auto, aperture priority, shutter priority and fully manual exposure options. Optical image stabilisation is built in and the camera can record High Definition (HD) video in 1280 x 720p at 24fps.
A new Image Leveling feature corrects 'leaning' shots by rotating the image and cropping the 'unnecessary' edges, although we suspect that serious photographers would rather leave this kind of editing to their graphics package on their PC. We imagine many will leave the in-camera 'multiple-exposure' effects for the desktop too.
The back of the camera is more or less the same as its predecessor, with the familiar mini-joystick and manual controls and a large 460,000 dot 3″ LCD screen, which is the only means of previewing images unless users fork out for the optional optical viewfinder.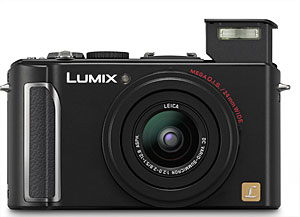 First preview
An early picture quality preview on US site InfoSync offered disappointing results, with the reviewer commenting:
"The first shot is noticeably affected by noise, despite having been taken at ISO-125. Resolution is low overall and practically non-existent in the bricks underneath the bridge. The second and third shots both fare better and are more in line with what we expected from the camera, but they're still far from exemplary."
We hope to put the camera through its paces for ourselves soon and see how it shapes up against similar high end digital compacts like the Ricoh GX200/GRD2 and Canon G9. The Lumix LX3 will be available in the UK from August for £399.99.