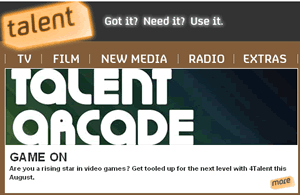 If you're hot on the idea of getting in to the gaming industry — and who wouldn't be, they just lie around all day playing video games, right? (joke) — getting yourself up to the Edinburgh Interactive Festival this year might be a good start.
A partnerships between Channel 4 and the Festival, sees Talent Arcade opening. It's a 'packed programme' of workshops to help new video gaming talent and will included the chance of winning coveted work placements and free training. All sounds good.
We're been to the Edinburgh Interactive Festival previously and were really impressed with the event.
The strands
There are four main elements to the strand:
The Knowledge: A series of panels staffed by industry experts, focusing on finding finance for games projects, self-publishing, and setting up or working in a games company.
The Kit: Demonstrations of the latest hardware and software for games creators from innovative companies Waracle, Pandora, Denki and ITI.
The Brief: Scottish games employers TPLD, 3MRT, Tag Games and Cohort Studios will each set a brief for emerging gaming talent to develop and pitch an idea for a real project. Creative talent from any discipline, from designers to artists to programmers, will be given three weeks to develop and submit imaginative and original responses to the briefs. Four chosen winners will then receive coveted work placements with the participating companies, as well as free places on Dundee industry training course, The Gameplay.
The Answers: The event will conclude with a broad-sweeping session offering participants the chance to get answers to their gaming gremlins from a live panel of experts. Questions can be submitted online via the 4Talent Scotland website until 6th August, dropped off at one of the questions boxes on the day, or popped in person at the session.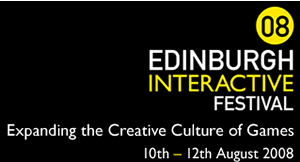 Where & When
The Edinburgh Interactive Festival runs between 10 – 12 August, not surprisingly in Edinburgh.
The Talent Arcade takes place on Monday 11th August, 10:00 – 20:00 – with a continuous ten hours, it truly will give you an impression of what working in the games industry is really like!
Costs
Full delegate pass – £149 (ex VAT)
Scottish based developers and companies – £99 (ex VAT)
Students – £75 (ex VAT)