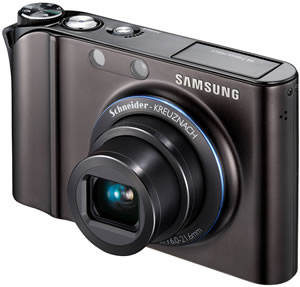 Samsung today launched the NV100HD, a compact digital camera with a bonkers 14.7 Mpx resolution.
It sits at the top of their style-led NV range and has a 28mm Schneider Kreuznach wide-angle lens onboard.
It's not just a still-shot beauty, 720p resolution video can be recorded at up to 30 frames per second – and then be watched, via an HDMI cable, on an HD TV.
Feature-tasic
It's loaded with nifty features. Alongside the Smart Touch screen — previously launched with the NV range — on the back, it tries to help you capture the 'moment'.
In "Blink Detection Mode," the camera will take a series of shots when closed eyes are detected, to ensure subjects are captured with their eyes open.
"Smile Mode" takes the shot automatically when smiles are detected, as the Sony Cyber-shot T70 does (video).
For the truly vain, the "Beauty Shot" mode retouches facial skin for a brighter and smoother skin tone.
Availability
The NV100HD will be in the UK shops from August 2008 with a retail price of £229.