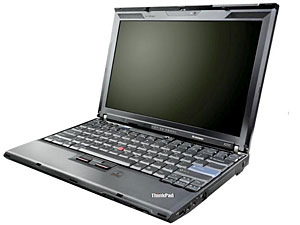 We've recently become big fans of Lenova (formerly IBM) after grabbing a super-cheap old ThinkPad X32 off eBay for use as a backup lappie. We were so taken by its rock-solid build and all-round dependability that it's now taken over the Sony Vaio as our primary machine.
Fresh out of their factory and already tempting out wallets is Lenova's new ThinkPad X200, which sports a design inspired by their ultra-desirable, high end X300 laptop – except there's no built-in disc drive in town (you'll need the UltraBase add-on for that).
Finished off in the standard ThinkPad matt black, this is unlikely to please fickle fashionistas looking to make a stylish splash when they flip over the lid of their laptop, but when it comes to rugged, no-nonsense performance, Lenovas can rarely be beat.
The laptop comes with Lenova's trademark 'nipple' trackpad with three mouse buttons below (we thought we'd hate these but soon got to feel the love) plus a 12.1-inch, 1280 x 800 screen.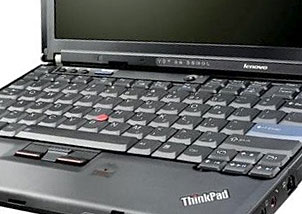 There's both SSD (64GB) and regular hard drive options (up to 320GB) on offer, and when it comes to connectivity, the X200 packs a full arsenal including WiMax, WWAN with GPS, Ultra-Wide Band and Bluetooth 2.0.
The X200 should purr along nicely courtesy of a 2.4GHz Core 2 Duo processor, with capacity for up to 4GB of RAM (with only 3GB addressable with 32-bit OS).
The machine weighs in at 2.95 pounds and measures 0.8-inches thick. Battery life is quoted at 3.1 hours, with the 6 cell and 9 cell batteries bumping that to to an impressive 6.2 and 9.4 hours, respectively.
The asking price for this highly desirable bit of kit is a rather tempting $1,199, with the X200 scheduled for an August release.