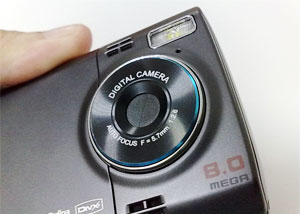 Currently taking the cameras from the much lauded iPhone, the eagerly anticipated Blackberry Bold and a slew of other mobilecam wannabes around the back of the bike sheds for a good thrashing is the 8MP monster snapper fitted to the new Samsung i8510 smartphone.
If the reports leaked on the Internet are true, the Samsung will be raising the bar on mobile cameras to a jaw dropping 8MP resolution – easily enough to knock out A3 sized prints – with the camera also sporting dual LED flash and 120fps video capture at QVGA resolution.
And it's not just the camera that looks sweet on this phone, with the spec sheet serving up a salvo of techie treats – take a deep breath and inhale this lot: 7.2Mbps HSDPA, GPS, built-in FM radio, GPS, DivX, MPEG4, WMV and 3GP video support, WiFi, 128MB RAM and a generous 16GB of internal storage, 3.5mm headphone jack, with a microSD slot offering up to 8B more of storage joy and Bluetooth 2.0 letting you speedily shuffle files betwixt PC and phone.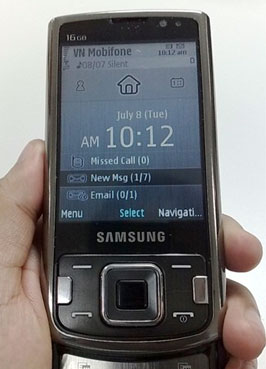 Slenderness is not its strongest card nor is it the greatest looker either, with its 106.5 x 53.9 x 16.9 mm dimensions causing a little consternation in the pocket department and the dour black lines unlikely to give passing iPhone users even the slightest pang of envy.
However, the whole caboodle purrs along with S60 3rd Edition Feature Pack 1 at the helm, and Samsung are claiming that the1200 mAh Li-Ion battery will dish out a healthy 280 hours on standby or six hours of voice time.