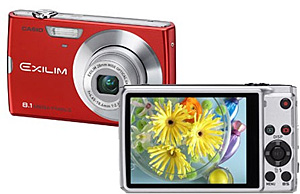 Ready and waiting to capture your mate's drunken mishaps and have them ready for uploading on YouTube in a flash is Casio's latest digital compact, the Exilim Zoom EX-Z150.
Sporting an 8.1 Megapixel CCD sensor and a 4x optical zoom (usefully starting at a handy 28mm wideangle through to 112mm at f2.6-f5.9), the camera looks to be a highly pocketable fella, measuring up at 96.7 x 57.3 x20.1mm and weighing 126g. In fact, it's so slim that Casio are claiming first prize in the rather niche category of "the slimmest camera in the world with a built-in wide-angle 28mm zoom."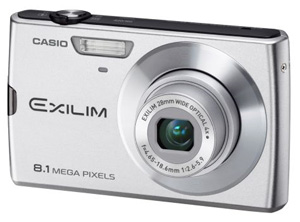 Taking a quick shufti around the back, there's a hefty 203k 3.0-inch LCD screen packing a widescreen 960×240 resolution, with the camera also offering CCD-shift anti-shake functionality and the de rigeur face detection technology.
ISO sensitivity soars up from a stately 64 right up to the giddy heights of 1600 (expect a snow storm blizzard of noise at this setting) with the all-important YouTube Capture Mode grabbing web-ready 640×480 clips at 30fps.
There's a rather miserly 17.9MB of onboard storage, with a SD card slot allowing for expansion.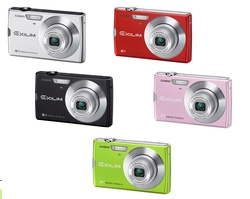 The EX-Z150 comes in a pleasing range of colours which Casio has elected not to give daft names. Instead, you can expect to buy the camera in good old fashioned colours like silver, black, red, pink, and green rather then the usual PR-spun nonsense like 'Slopes of the Eiger White' and 'Deep Space Black.'
Pricing and availability details are still to be uttered from the lips of the Casio crew.
Via Via