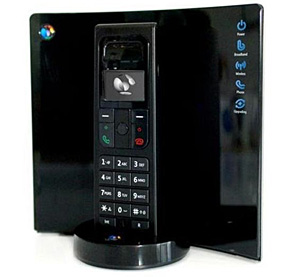 With a deft tug on the velvet curtain, BT has let rip with its shiny Home Hub 2.0, a matt black beast stuffing 802.11n Wi-Fi, an eco-friendly power-save function and kid-repelling child controls in its curvy lines.
As well as replacing the earlier white colour scheme with the moody black number, there's been some changes inside too, with the router now supporting the draft version of 802.11n, which should allow users to roam free, free, free like the wind. Or maybe a little further up their garden.
Either way it has to be an improvement on their first router which we found to be so woefully lacking in range that we may as well hooked up a cable to it – and there were issues with wireless security vulnerabilities which we reported on in April this year.
Insisting that their new Home Hub was anything but ho-hum is Jon Hurry, Commercial Director of BT Total Broadband, who declared himself as pleased as Punch with the unit's 802.11n support: "We're on the edge of 802.11n taking off. It's already standard in Apple's latest laptops for instance."
According to BT's research, 40% of punters were registering low on the Chuffed-o-Meter when it came to the Wi Fi range and signal drop outs, so Mr Hurry is hoping that their new higher speed router will have their clients a-whoopin' with joy for BT.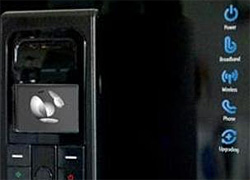 "We are always looking to bring our customers the most complete broadband experience and we felt the time was right for this upgrade," insisted Mr Hurry.
The Home Hub 2.0 comes with WEP security out of the box and a power save function that allows the box to be programmed to switch itself off at certain times.
The new router also packs parental controls designed to stop errant yoots sneakily gorging themselves on porn, online gaming sessions and homework-evading sites, with certain computers only being allowed preset connection times.
Home Hub 2.0 will be offered free to new customers signing up to a BT Total Broadband Option 3 contract and is bundled with Option 2 online orders. BT claims that the set up procedure has been streamlined and existing customers can join in the Home Hub 2.0 fun by parting with 45 of their shekels.