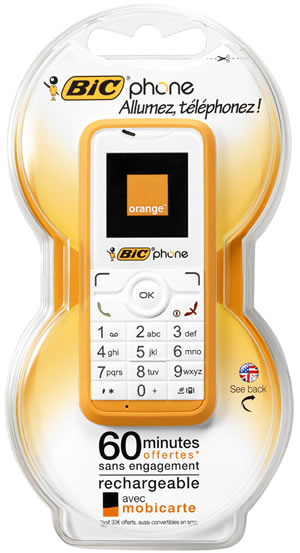 BIC, famous for disposable pens and lighters, is launching the BIC Phone in France today.
As with their other products, the BIC Phone focuses on core functions – making and receiving phone calls & texts.
Available in two playful colours, citrus orange and lime green, the USP of the BIC mobile phone is that it's ready to go when you buy it.
None of this normal fiddling around with wrestling the battery out of the packaging, finding the charger and leaving it for X hours to get it ready to use – the BIC Phone is charged a ready to go.
The same applies with the SIM, which is in the phone complete with 60 minutes of credit onboard.
Some caveats
There's couple of strange sounding caveats, like "The telephone number is valid for at least 12 months from the time the phone is activated." Eh? For only at least 12 months?
The other, slightly less wierd one, is that to get to use all of 60 minutes of credit, "clients must identify themselves to Orange service agents."
Availability
It's going to be available, from around September, only in France, in major supermarkets and local convenience stores (tobacco shops, news stands, train stations, airports…) for an all inclusive price of €49.