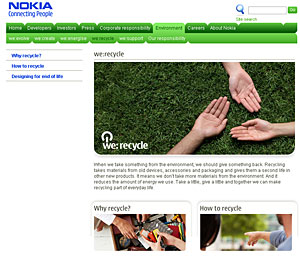 Despite our endless enthusiasm for shiny new mobiles, just 3% of people bother to recycle their discarded mobile phones.
A new global consumer survey released by Nokia asked 6,500 people in 13 countries about what happened to their old handsets with the results making for depressing reading: the notion of recycling didn't even cross the minds of three out of four people asked, while nearly half didn't even think it was possible to do so.
Nokia discovered that the average user had owned five phones. When asked what happened to their superceded handsets, 3% said that they'd recycled it, 4% had lobbed it into landfill, not far off half (44%) had just shoved it in a drawer never to be used again, while 16% flogged off their used devices.
Keen to big up their own green credentials, Nokia say that between 65% and 80% of a Nokia device can be recycled, with the company claiming to operate the largest voluntary scheme in the mobile industry.
Nokia currently offers recycling services in 85 countries, letting users drop off their old devices at Nokia stores and almost 5,000 Nokia Care Centres which can be found here: Nokia Recycle.
Greenpeace Guide to Greener Electronics
However, for all their loud parping on the "Look at us! We're Green!" PR trumpet, the company still lags a fair way behind Sony Ericsson and Sony in the quarterly 'Guide to Greener Electronics' report compiled by Greenpeace, with their latest score being docked one penalty point for their poor take-back practice in India.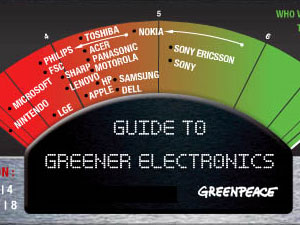 Leading the pack – and the only companies to score more than 5/10 in their guide – Sony Ericsson and Sony scored for their 'chemical phase out' and 'products free of the worst toxic chemicals' respectively, but Greenpeace maintains that both companies still have a long way to go.
The environmental charity describes the guide as their way of "getting the electronics industry to face up to the problem of e-waste. We want manufacturers to get rid of harmful chemicals in their products. We want to see an end to the stories of unprotected child labourers scavenging mountains of cast-off gadgets created by society's gizmo-loving ways."
You can download the Greenpeace PDF report from here.