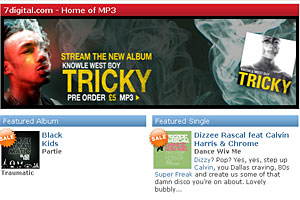 CD and DVDs sales may be going down the dumper, but downloads of DRM-free music are going through the roof.
MP3 download site 7digital.com is reporting that sales have rocketed since they introduced DRM-free music from major labels Warner and EMI, with the site now riding high as the UK's second biggest digital music retailer, after iTunes.
The company say that download sales have increased 300 per cent year-on-year for the year ending June 2008, with company CEO Ben Drury beaming, "High-quality, DRM-free MP3 downloads have really sparked a new wave of digital music take up."
Claiming to have attracted increasing numbers of iPod and iPhone users, along with big brands like Samsung, Nokia, Blackberry and Sony Walkman devices and mobile phones, Drury adding that the one MP3 format is easier for punters to use and offers afar superior compatibility.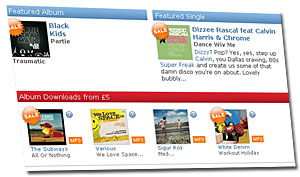 Since adding Warner's MP3 collection to their catalogue, around 80 per cent of 7digital.com's 4 million track catalogue is now available in the format, with Drury commenting, "It is now clear that MP3 downloads represent the future for digital music. With two of the four major labels now supporting MP3 in the UK, we expect to see the whole market supporting MP3 in the not-too-distant future."
7digital is a privately held company based in central London, backed by venture capitals Benchmark Capital – the same cash-laden folks behind eBay and other leading technology companies.
For your delectation, here's 7Digital's Top 20 MP3 albums so far for 2008: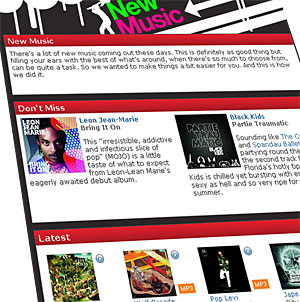 1. Coldplay – Viva La Vida Or Death And All His Friends
2. Kylie Minogue – X
3. Radiohead – In Rainbows
4. Goldfrapp – Seventh Tree
5. Hercules And Love Affair – Hercules And Love Affair
6. Madonna – Hard Candy
7. Hot Chip – Made In The Dark
8. Death Cab for Cutie – Narrow Stairs
9. Supergrass – Diamond Hoo Ha
10. Nick Cave & The Bad Seeds – Dig, Lazarus, Dig!!!
11. The Kooks – Konk
12. Sigur Rós – Með Suð í Eyrum Við Spilum Endalaust
13. Hadouken! – Music For An Accelerated Culture
14. Pendulum – In Silico
15. Mystery Jets – Twenty One
16. Santogold – Santogold
17. R.E.M. – Accelerate
18. Foals – Antidotes
19. Elliot Minor – Elliot Minor
20. Alphabeat – Fascination.