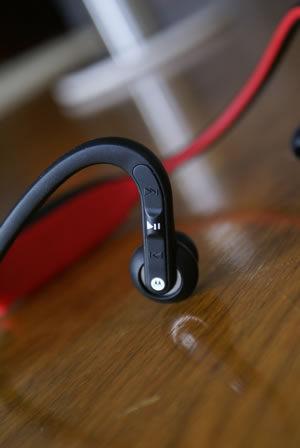 We've been using the S9 stereo bluetooth headset from Motorola for quite a long time now.
The concept behind them is intriguing – being able to enjoy music without having to deal with the wires that normally get caught up between headphones and the music player – but they're more than that. You can step backwards and forwards through the tracks and make and receive phone calls.
The first time we tried them on, we were really pleased to hear the quality of the music reproduction – bizarrely, we'd imagined that they'd have sounded muffled or full of static. We found them to be the opposite, clear and enjoyable and have been using them on every journey of any length.
They've been designed so that when being worn, they're more or less unnoticeable from the front – a good benefit. The story might be different from the back, depending on how long your hair is, as the rechargeable battery and bluetooth gubbins are held in a BIC lighter-sized bulge there. We had no problem with the bulge interfering with using them.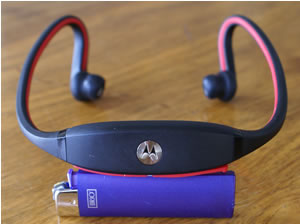 When first wearing them, particularly around London streets, we felt a little exposed, as taking them would be as simple as grabbing hold of them and yanking backwards. Luckily this didn't actually come to pass.
One thing to be aware of is that they're a rigid design, they cannot be be folded or reduced in size in anyway. We got along fine with this and just located them in a pocket in our bag.
To use the headphones you need to have a device – mobile phone, media player – that supports Bluetooth A2DP (Advanced Audio Distribution Profile). This lets you listen to a stereo audio stream, ie your music without wires.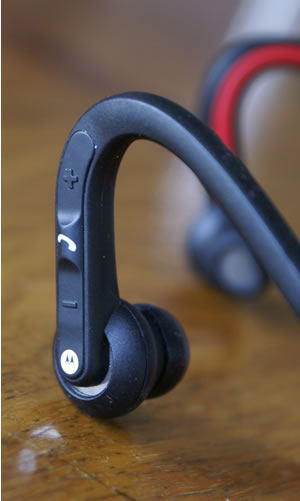 Media Controls
The S9s, if paired with an AVRCP (Audio/Video Remote Control) profile device, will let the media on your phone or player to be controlled via the headset. A pretty cool feature.
Everything that you could think of doing – pause, track forward and reverse, volume up and down is available – all without having to get your media player out in public. Good for the cold or places you don't want to be showing off your latest fab phone.
As you operate them without looking at them — they're on the side of your head after all — getting used to the controls takes a little while, but once you learn to feel for the raised buttons, the other controls become a doddle.
There are also control buttons to let you make and take phone calls without needing to touch the handset.
The second part of the Motorola S9 review covering their use as a phone headset, some problems we had using them and our conclusions & score.