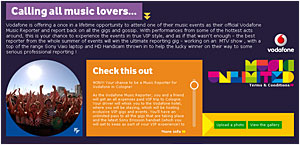 Vodafone – the world's biggest mobile communications group – are teaming up with social networking site giants MySpace to create what they're describing as an "online global interactive platform."
Their new "Vodafone Music Reporter" service lets fans in Germany, Italy, Spain and the UK share, upload and download pictures, comments and videos related to Vodafone Music Unlimited events, and interact with their fellow users through a blog featuring regular updates on Vodafone Music Unlimited activities.
Contributors and wanna be music journos will also able to enter a competition to showcase their reporting skills at Vodafone Music Unlimited events with winners getting to become part of an MTV show episode online and on mobile.
To get involved, users have to sign up to the "Vodafone Music Reporter" community on MySpace and upload a photo and video review of a recent gig. Other users then decide which reports they like the best with the site showcasing the winners from each round of the competition.
The final winner gets to hang out with an MTV crew for a day at an event or festival and is given the opportunity to compile their own report for the mobile and online version of the show.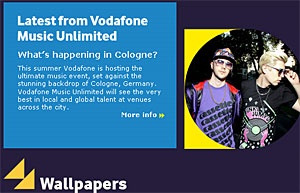 "We have a tremendous heritage in understanding what our customers want in terms of music and how our music partnerships enhance the customer experience even further," whooped David Wheldon, Global Brand Director at Vodafone (sadly MySpace's long, long heritage of dreadful web deign can be seen on the Music Reporter site – it's a right dogs dinner).
"Vodafone Music Reporter" reaches music fans in a way that reflects the latest trends of how music is experienced in the social networking space. It allows music fans to interact, showcase their skills and become a part of a unique Vodafone music community," he enthusiastically continued.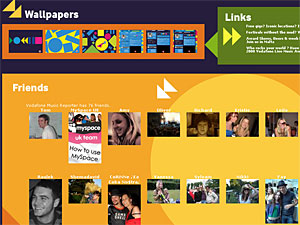 Ready and willing to liberally spray a few buzz words around, Nick Reid, Head of UK Sales at MySpace, took to the mic: "Vodafone is tapping into the creative audience on MySpace to really bring its proposition to life and provide a platform for users to showcase their talent within a multi-territory community. It's a perfect fit for Vodafone and highlights the possibilities available to advertisers on MySpace."