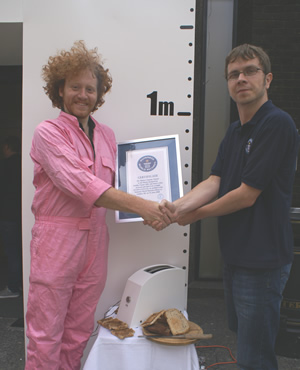 You may have heard about the Highest Popping toaster in the world and the intention to get it into the record books.
We were at the RCA yesterday when the devices creator, Freddie Yauner, 26, launched himself (sorry, couldn't resist the pun) into the Guinness Book of Records with his bonkers over-powered toaster.
The official from the Guinness Book of Records (on right) recorded the height of toast at 2.6 metres (8.5ft). We were pretty sure that we saw it go much higher than that — as you can see from the video.
It's a CO2 gas-powered monster that is of very little practical use what so ever, unless you're looking to create a service where people on balconies have toast delivered fresh to them. That aside, it's a great fun idea and certainly one that got young Yauner some attention.
When receiving the Guinness Book of Records certificate, Freddie told us "This is the proudest moment of my life. I don't know what's better, getting my MA from the RCA or the world record."
Slow motion video
For a long time we've been trying to find a practical use for the 120 fps video capture that comes on the LG Viewty (and latterly the Secret) and yesterday's toast launch was the perfect opportunity.
Delight in the slow mo vision of two pieces of toast trying to touch the sky.