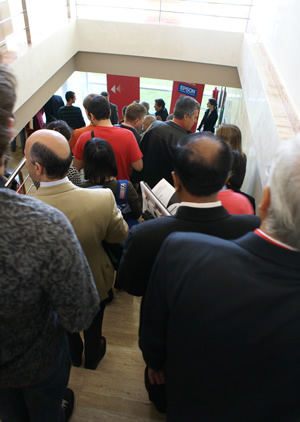 One thing is clear, IFA, _the_ European consumer electronics show, knows how to put on a show and how to entertain.
If you've been to the show in Berlin that runs between the end of August and that start of September you'll know what we mean – it's huge and the companies that exhibit there really go to town to make their stands special.
It's also very popular with over 100,000 trade visitors from 93 countries visiting it last year.
They also know how to make the journalists who go along to their now-yearly press conferences feel special and looked after. The event is a great opportunity to meet up with tech journos from around the world, while learning more about how IFA is expanding.
This kind of treatment is rewarded, as is shown by over 6,500 journalist from 62 countries going to the show last year.
Home Appliances this year
Alongside all of the stuff that IFA normally does, the big news for IFA 2008 is that it's going to include home appliances this year.
Speaking as a publication that covers the cutting edge of technology, we find it hard to get excited about the new entrant to IFA – white goods – fridges, washing machines and the like.
We can see, at a stretch, that it kind of makes sense, as many of the CE companies are also producing white goods, but the lack of significant innovation in this area — they've been making the stuff for years, so most of the innovation that could have happened, has happened already — makes it difficult for us to get excited about.
We all remember the rush to stick screens and Web browser on to the front of fridges, but to the best of our knowledge, this hasn't become standard.
That said, the idea of integrating Home appliances into IFA is clearly popular with the manufacturers as over 80% of the available space has already been sold.
It's clear that IFA feel that it's important – a way of attracting further visitors, both in terms of 'public' and trade visitors. We hope it works out for them.
With or without this latest addition, IFA is a great show that captures a wide slice of what's happening in consumer electronics. After the show there's the city of Berlin to enjoy – something that's hard to beat.
IFA runs 29 August to 3 September in Berlin this year. Let us know if you're planning to go – we can meet up there.