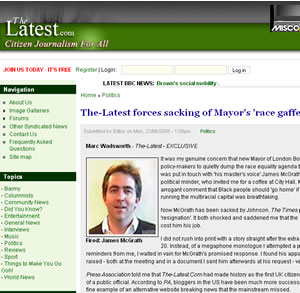 Citizen Journalism site, The-Latest, has been told by the Press Association that they are the first UK citizen journalism site to force the resignation of a public official.
Marc Wadsworth from The-Latest carried out an interview with James McGrath, until recently Boris Johnson's deputy chief of staff and political advisor.
Following the publication of Marc Wadsworth's article at the weekend under the headline, "Blacks should 'go back home if they don't like Mayor'," there's been a whole lot of kerfuffle and with James McGrath falling on his sword and resigning.
Johnson's alleged that "James' remark was taken out of context and distorted," although he went on to comment, that McGrath "recognises the need for crystal clarity on a vital issue like this."
Continued derision
It's interesting to read through the official statement from Johnson on the incident. In it they've attempted to differentiate Marc Wadsworth from the rest of journalism by labelling him "an Internet journalist."
This is both the politicians and the media trying to be sniffy about online news reporters – they're both afraid about the impact online news can have.