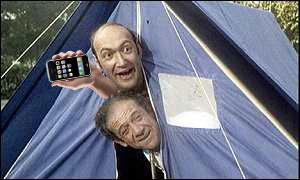 With handsets offering bigger screens, video capabilities and faster download speeds the market for mobile pornography is set to soar according to industry insiders – with the iPhone proving the biggest hit amongst the thrill-seeking cognoscenti.
Declared "by far the porn-friendliest phone," by Devan Cypher of San Francisco-based Sin City Entertainment, Apple's iPhone has become the number one choice for many porn seekers.
According to Google Trend, Internet searches for iPhone porn have increased nearly fivefold over the past six months, and the adult industry has proved quick to react by providing more mobile sized saucy content online.
New research has found that around a third of iPhone users use their handsets to watch video – nearly ten times more than owners of other phones.
With three quarters of iPhone users being blokes and already shelling out around five times as much on entertainment compared to other users, porn looks to be a continuing hit for iTrouser Rubbers.
Not surprisingly, Apple isn't too thrilled to learn that it's become a hit with porn merchants, with Apple spokeswoman Jennifer Bowcock commenting, "Our iPhone 2.0 software will give customers the opportunity to turn on parental controls."
With the Iphone's fast streaming capabilities and large screen making it the perfect companion for a bit of mobile slap and tickle, the mobile porn industry looks set to grow.
Farley Cahen, VP of business development for AVN Media Network, the adult industry's trade body added, "A huge portion of the $13 billion adult market has been reliant on physical distribution. That business model is shifting to downloadable and streaming content."