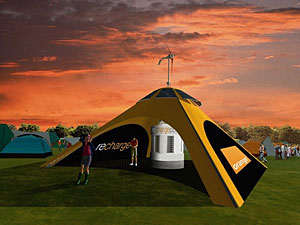 Keen to exploit the product shifting possibilities of the famous Glastonbury Festival, mobile operator, Orange have announced the launch of a freestanding wind powered mobile phone charging station.
With the artists impression seemingly created by someone on reality-altering happy-clappy drugs, Orange's publicity shot shows the seven metre tall tent on a lush grass surface set against a beautiful sunset, with just a handful of campers in the distance (we've added our own version below).
Old Glastonbury hands will recall the huge queues in the neolithic quagmire outside Orange's recharging tent last year, but at least this one employs green technology.
According to Orange, the free standing "recharge Pod" is a self sufficient unit that comes with its own wind generator and solar panels capable of charging up to 100 mobile phones per hour.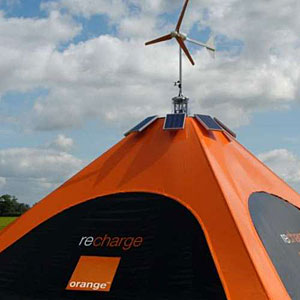 A joint venture with renewable energy company Gotwind, the recharge Pod builds on the Orange portable wind charger, which was trialled at last year's Glastonbury Festival.
The recharging tent will be set up around the Pennard Hill camping grounds and will be offered as a free service to all festival goers.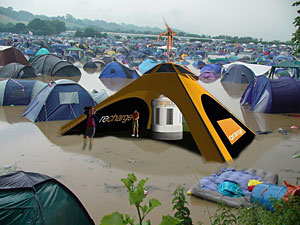 If you're going to Glastonbury this year, be sure to check our Taking Gadgets To Glastonbury Festival guide for some tips.