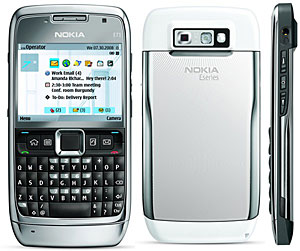 Rumbling off Nokia's great production mills are two additions to its E series range, the QWERTY E71 and E66 slider phones.
Both have emerged from lard free diets, sporting trim bodies just 10mm thick for the E71 (pictured above) and 13.6mm for the E66, with a novel 'quick switch' letting users change from business to personal use. This tie-loosening types switch home screens, email accounts and calendar to their personal choices as soon as they've got the hell out of the office.


Nokia E71
Despite its slimline form factor, the E71 still manages to squeeze in 'nuff connectivity options, with WiFi, HSDPA and A-GPS all present and correct.
There's also a 3.2 megapixel camera with a front facing camera for video chat, a 2.36-inch QVGA screen and a decent battery life, adding up to 20 days of standby, 10.5 hours of GSM talk or 4.5 hours of 3G talk.
There's a modest 110MB onboard storage backed by a microSD slot giving up to 8GB extra memory, with the natty handset ringing up a $500-ish unlocked price tag.
The E71 is expected to shuffle into the States in Q3 of this year, and will be available in grey steel and white steel finished.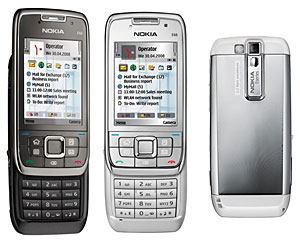 Nokia E66
The new E66 slider comes with GSM, EDGE, WCDMA and HSDPA bands and a 3.2 megapixel auto-focus camera, with boatrace-facing cam for video calls.
There's also WiFi, A-GPS, 3.6mbps web browsing and a 2.4-inch QVGA screen packed into the a 13.6mm thin body, with auto-sensing landscape orientation.
Business folks on long road trips should be chuffed with the E66's battery life, serving up 14 days of standby, and 7.5 hours of talk on GSM, or 3.5 hours of talk on 3G.
Like the E71, there's just 110MB of internal memory lurking inside with an optional microSD card and the handset is available in grey steel or white steel. The phone is expected to shift for under $500 in the States from Q3.