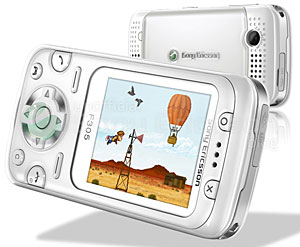 Details of Sony Ericssons new range of phones have been leaking all over the Web, with the most interesting being the gaming- orientated F305.
Although it's low on the usual hi-tech features we've grown to love – there's no Wi-Fi or GPS for starters – the silvery thing packs a built-in accelerometer for Wii-style motion controlled games, and a set of PlayStation-like gaming keys next to the display, with a shortcut key to games.
The display is unlikely to get gaming freaks doing a frag of delight as it can only muster up a diminutive 2-inch 176 x 220 screen, although the claimed eight hour battery life isn't to be sniffed at – and there's the option to plug in the optional battery Power Pack CCP-100 for extra juice.
Onboard Bluetooth lets you challenge your chums to a slice o'multi-player action, while Sony claim that the speakers on the back can knock out a bit of oomph.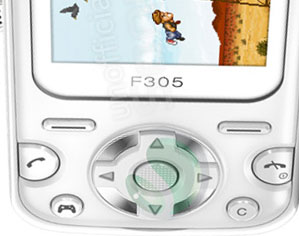 Built in memory is well on the rubbish side – a derisory 10MB – but at least there's a Memory Stick Micro slot for extra storage.
There's also a 2MP camera, built-in FM radio and a music player capable of playing most standard audio compression formats (including eAAC+ codec) with stereo streaming courtesy of Bluetooth A2DP profiles.
The chunky fella measures up at 96 x 47 x 14.6 millimetres, and weighs in at just 97.5 grams.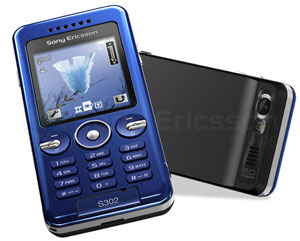 Sony Ericsson S302
Also coming up is the Sony Ericsson S302, a cheapo quadband GSM cameraphone with support for EDGE networks.
The natty 'Thunder Grey' or 'Crystal Blue' chappie comes with a basic 2MP camera, photo light and PhotoFix, with the miserly 20MB internal memory expandable with a Memory Stick Micro card.
There's also A2DP-support, media player, PlayNow, TrackID, a built-in FM radio and the rather nifty Access NetFront xHTML web browser.
Measuring up at 101 x 46 x 11 millimetres, and weighing 79 grams, the S302 comes with a 2-inch 176 x 220 pixel sTFT-display and a battery life of 7 hours of talk or 300 hours of standby.
Both low cost phones are expected to surface in Q4