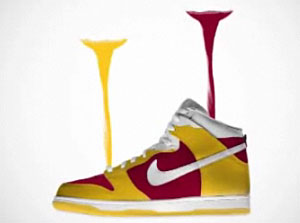 Back in the day, kids used to customise their trainers courtesy of a marker pen and a bit of imagination, but Nike intends to go one better by offering a service that lets people create footware-based fun using colour schemes based on their camera phone snaps.


Fuelled by a colossal pan-European mobile marketing budget that would probably alleviate suffering in several Third World countries, the sportswear giant's new Nike PhotoiD service has been given the full PR treatment.
With Nike exiling their creative team to long periods thinking outside the box, several bluesky moments resulted in a paradigm breakthrough, with the service described as a "watershed moment in mobile campaign activity," that is going to 'tap into the habits of the digital generation' and the, err, "growing expectations of consumers to customise their lives".
They're sure talking the talk, but when it comes to seeing the service in action, well, it's a bit rubbish really.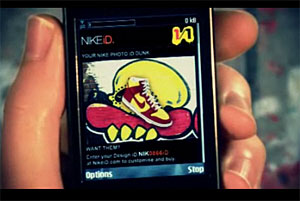 Despite the edgy, beatbox-driven 'urban' promotional video showing all sorts of funky graffiti footage, the reality is that all the thing does is extract the two dominant colours in your photo and stick them on a picture of your 'custom' Nike 1985 Dunk high-top basketball sneakers.
The picture of your coloured trainers can be saved as mobile wallpaper (who on earth would want that?) or mailed to a chum who could then buy a pair of the shoes personalised in your chosen colours (note to our friends: we're not interested in receiving your coloured-in photos, thanks).
Visibly inflated by vast intakes of Eau De Buzzword, Paulo Tubito, the director of brand connections for Nike Europe, Middle East and Africa, puffed: "Where past use of MMS in mobile marketing campaigns has typically focused on short-term, one-way interactions between brand and consumers, Nike PhotoiD opens a genuine creative dialogue between the brand and its audience."