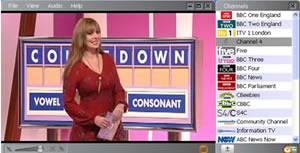 Zattoo is a P2P applications for all three computer platforms (Linux, Mac and Windows) that lets you view live streams of many TV channels.
It currently works in Belgium, Denmark, France, Germany, Norway, Spain, Switzerland, and the UK.
We've been reviewing it in the UK where there's currently 29 channels available to watch, including all of the BBC channels, ITV1, Channel 4 and five.
Speed of channel change
With online TV streaming, the speed to the channel change is paramount to the enjoyment of using the service.
Zattoo have struck a happy medium, with the channel change taking a reasonable seven seconds from clicking on the channel selector to the video starting to play.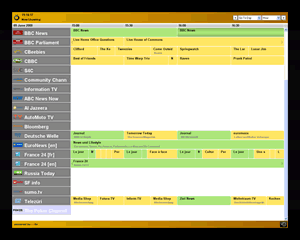 There's also a full screen EPG available, which lists the programming of most of the channel (not sure why some a left off). Clicking on the program take you straight to the channel.
Audio sync out sometimes
In the brief experience we've had with it, we've found that the audio/video sync isn't always that good.
No pause
Given all of this video programming is delivered electronically and bufferable, it's a great shame that they haven't enabled a Pause button, for all of those times that you have to take a phone call when you're watching programming.
Video quality
Standard video resolution is currently normally 352×288 (wide screen: 480×288) with a 500 Kbits/second stream. We've found generally the video quality is good, although we have hit occasions where the video broke up pretty badly. At times it has taken up to 30 second to clear this.
Running the video stream at full screen gives variable results depending on which channel is being viewed – none of them are perfect, but given the source video is 352×288, we weren't surprised.
Zattoo users in Switzerland with Swisscom VDSL connections get a better resolution — 576×528 — due to a deal with Swisscom.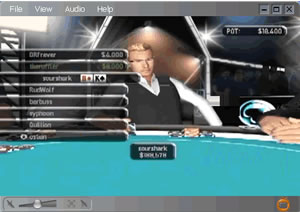 Virtual poker
One of the channels is The Poker Channel. In between the many televised poker matches that are happening around the world, we were really surprised to see that virtual poker was also being televised.
To achieve this, they've used PKR.com, which is an online poker that uses 3D modelling, changing camera angles and zooming to increase the tension of watching. beyond on being able to watch this online as anyone could, The Poker Channel has enhanced the virtual match by providing three or four people commentating on it.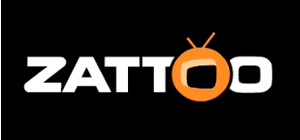 Background
Zattoo was founded in 2005 by Sugih Jamin, Beat Knecht, and Wenjie Wang. The three co-founders are supported by a team of currently around 50 people, stationed in Ann Arbor, USA, and Zurich, Switzerland.
Their technology is based on research done by Sugih Jamin and Wenjie Wang at the University of Michigan and is optimized to stream live content.
Summary
It's a pretty good service that give a reasonably wide access to what we assume will be a growing number of TV channels. If played at its standard size, the quality of the video is generally pretty good, as is the audio quality normally.
As with many of these P2P service, the more widely they're used, the better the quality of the service, as more people bring their bandwidth to improve the video delivery.
Zattoo if defo one to keep an eye on.
Score: 69%
Thanks to Amo for the tip.