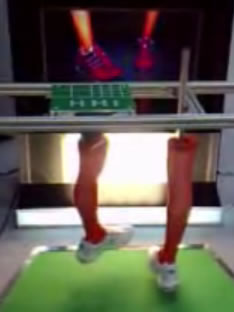 Here's an interesting video that we grabbed at IFA last year.
The concept? Rather than shops needing to have huge stock of every trainer available, all that would be needed is for a stock of virtual trainers.
This gives the shops a number of advantages. The shops can be considerably smaller, saving money on expensive ground rent; they'll be able to sell trainers that they don't have in stock; trainers that don't even _exist_ can be sold – how good is that for a business?
Watch the display at the top to see the trainers being rendered in real-time, as they twist and turn.
Mechanical legs were used so a volunteer didn't need to be waggling their legs around all day!