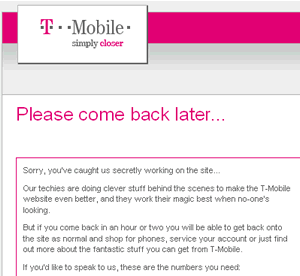 Anyone been to the T-Mobile site today? Thanks to Ian who pointed it out to us, we've just visited there to find that the site is showing a single holding page.
We all know that the online world has its difficulties with servers every now and again, but T-Mobile are claiming that they we've caught them "secretly working on the site."
Anyone who has ever rolled out any form of technical project knows that this isn't something that you do in the middle of the afternoon on a normal working day – you wait until the middle of the night, or when ever your site is used the least. Not the middle of the day.
Damaging trust
When outages like this happen, a degree of trust is lost with the company that you're dealing with, as Ian said to us, "Oddly enough, I was looking for reliable mobile Internet services, so not sure about T-Mobile on that front!"
Anyhow's … when the techies have finished doing their "clever stuff behind the scenes to make the T-mobile even better," we guess it will be up again.
UPDATE: Oooooo, it's back up again.