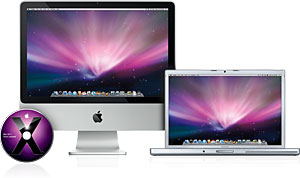 Yesterday, Apple offered a preview of the next major version of its Mac OS X operating system, called "Snow Leopard."
Expected to regale under the designation 'Mac OS X 10.6' when it sees the light of day in around 12 months time, the release is set to focus more on speed and stability than ramping up the new feature count.
Optimised for multicore processors, the operating system will lift the system memory limit up to the giddy heights of a 'theoretical' 16 TB – a sizeable hike from the current total of the current 64-bit Mac OS X, which supports a comparatively smaller 4 TB of physical memory.
"We have delivered more than a thousand new features to OS X in just seven years and Snow Leopard lays the foundation for thousands more," purred Bertrand Serlet, Apple's senior VP of software engineering.
"In our continued effort to deliver the best user experience, we hit the pause button on new features to focus on perfecting the world's most advanced operating system," he added in a blur of self-backslapping.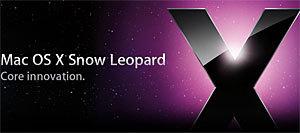 The new Snow Leopard OS (them more we type it, the more rubbish the name looks, by the way) will pack a new technology called "Grand Central" which is designed to help developers write applications that take full advantage of multicore processing.
There'll also be extended support for Open Computing Language, which helps spoddy programmers utilise graphics processing units for overall performance gains.
The new OS will include out-of-the-box support for Microsoft Exchange 2007 built into Mail, Address Book, and iCal. giving users full access to their email, contacts, and calendar on the move. Snow Leopard will also include a revised and optimised version of Apple's QuickTime X application, using media technology pioneered in OS X iPhone
Apple are claiming the "fastest implementation of JavaScript to date" with Safari said to whip put the JavaScript up to 53 percent faster.
The whole OS will also be substantially delardified compared to previous versions of Mac OS X, making the whole thing swing along in a nippier fashion while freeing up more hard drive space for users' stuff. Which is jolly nice.