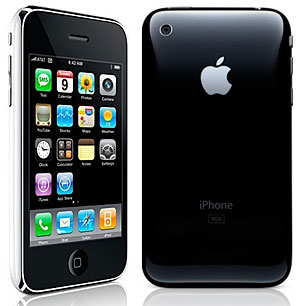 To the surprised gasps of, well no-one, Captain Stevie Jobs set fanboy gussets a-moistening one more time with the announcement of the new 3G iPhone.
Now sporting Thinner edges and a full black plastic back, the upgraded handset runs iPhone 2.0 firmware, with Apple claiming that it will load webpages quicker than the N95 and Treo 750 (quote why they're boasting about it being faster than the 18 month old Treo is anyone's guess mind.)


The bigger battery has seen a little more bulk being put on the iPhone, which is now looking a tad lardy compared to some rivals:
iPhone 3G 115.5 x 62.1 x 12.3
iPhone (EDGE) 115 x 61 x 11.6
HTC Touch Diamond 102 x 51 x 11.35
HTC Touch Pro 102 x 51 x 18.05
Sony Ericsson Xperia X1 110 x 52.6 x 17
See size comparison.
With 3G being introduced into the equation there were fears that battery life would crumble into iDust, but Apple are claiming 300 hours of standby, 8-10 hours of 2G talk, 5 hours of 3G talk, 7 hours of video and 24 hours of audio.
Users will still be stuck with the annoying non-removable battery.
When it comes to GPS, Apple have finally caught up with the competition, adding A-GPS, which does clever things with satellite GPS info, cellular tower triangulations and Wi-Fi data to give users a pretty reliable lock on to their location.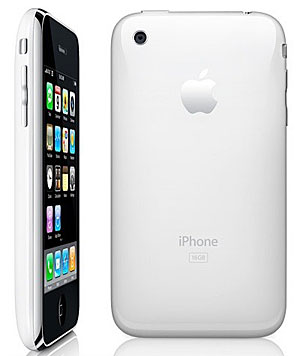 There may be 3G onboard, but with no facing camera, video calls are a no-no, which may disappoint some groovy users who are into that kind of thing.
Other disappointments come in the shape of the camera sticking with the decidedly ho hum 2MP job, while there's still no SD/MicroSD expansion slots onboard or Bluetooth A2DP support.
With launches planned for 70 countries, the 8GB version will be is available for $199, and 16GB (available in white) for $299 – we think that's with a looong 2 year contract.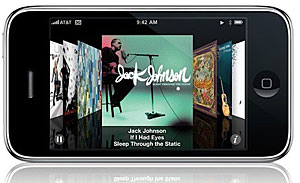 Consumers in the US and the other '21 biggest markets (*see below)' will be the first to get their iMitts on the new iPhone, which will be available from July 11th.
* Australia, Austria, Belgium, Canada, Denmark, Finland, France, Germany, Hong Kong, Ireland, Italy, Japan, Mexico, Netherlands, New Zealand, Norway, Portugal, Spain, Sweden, Switzerland, UK and the US.