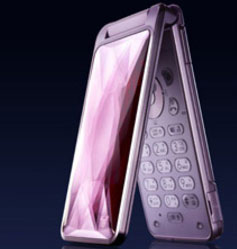 The great dust storms generated by extended bouts of enthusiastic synergetic backslapping in Japan have finally cleared to reveal the fruits of a Walt Disney and Sharp mobile phone collaboration.
Being prepped for a June 7th offensive into adolescent handbags all over the Land of the Rising Sun is the new Walt Disney/Sharp DM002SH phone, known as the Cinderella phone.

The none-more-girly clamshell handset comes in three sparkly finishes, described as Clear Crystal, Brown Topaz, and Pink Diamond.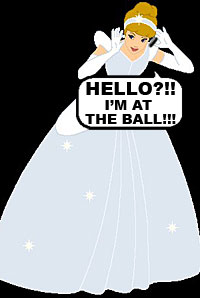 Lurking inside the ladyphones can be found a fairly reasonable 2.6 inch internal display sporting a WQVGA resolution (400×240 pixel), backed by a 0.5 inch external OLED display.
Internal memory stands at 50MB – enough for a few tunes and photos taken on the 2MP camera – with a microSD slot allowing near endless R'n'B listening pleasure on the move.
Rounding up the spec sheet is Bluetooth and a 1Seg Tuner. We have to admit we didn't know what a 1seg tuner was, but a brief rummage around the web informed us that it's a Japan-only mobile terrestrial digital audio/video and data broadcasting service, which started up in April 2006. Find out more here: 1seg.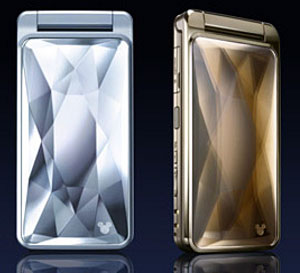 Back to the shiny Cinderella phone, we've no idea as yet about pricing or whether a version will be seen in the UK – or anywhere else for that matter. But we dont want one, thanks.
http://www.akihabaranews.com/en/news-16087-Walt+Disney+%26+Sharp+unveil+their+new+Cinderella+Mobile+phone%2C+the+DMS002.html