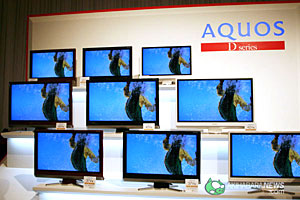 Those crazy product-inventin' cats at Sharp have gone new TV crazy, unleashing a veritable pack of twenty two new Aquos LCD TVs.


With enough new TVs on offer to make up two whole football teams (assuming that TVs could play football of course; mind you they might have a better stab at it than Derby County), the avalanche of new goggleboxes is split into three series, the RX5 Series, the GX5 Series, and DS5 Series.
Aquos RX5 Series
The top of the range RX5 HD Series are served up in room-filling 65″, 52″ and 46" sizes, each boasting a contrast ratio of 3300:1 and a "living contrast ratio (a wha'?) of 1500:1, which apparently adds up to a peeper dazzling dynamic ratio of 20000:1.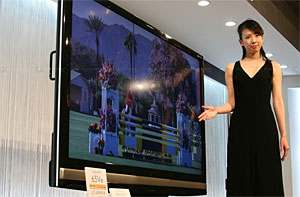 There's support for 1080p resolution, a brightness of 450cd/m, 120Hz motion, 12bit BDE image processing and web access to a specially designed Yahoo! Japan page.
Aquos GX5 Series
These full HD and HD LCD tellies are available in screen sizes from 26″ up to 52″ backed by an 120Hz ASV panel, a contrast ratio to 2000:1, and a brightness of 450cd/m2.
There's also a side mounted ARSS "Around Speaker System", DLNA access and Internet access for the larger sizes in the range.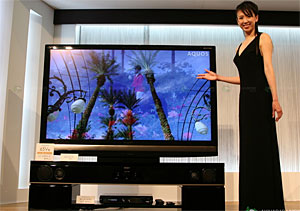 Aquos DS5 Series
Aimed at folks not bothered with the Internet access option, the DS5 Series comes in black, white and red colours, with screen sizes running from 32″ to 42." There's also the same 2000:1 contrast ratio and a 450cd/m2 brightness as the GX5 series, but no 120Mhz panel.
Pricing and availability details still kept firmly under Mr Sharp's big fedora hat.