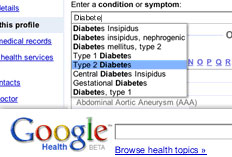 Search engine giants Google have progressed another step on their plans to dominate, well, just about everything, with the launch of Google Health, a health information service that combines their high tech search technology with a user's online personal health records.


Designed to let users, patients, hypochondriacs and serial worriers store and manage all their health information in one place, the free, password protected service can be found in beta form here.
Google say that users will be able to collate medical records from doctors, hospitals, and pharmacies, keep their doctors up to date about their health and "be more informed about important health issues."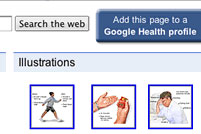 It's only for the US at the moment, with the service linking up to major U.S. pharmacy chains, doctors, and hospitals. Partners already signed up include Walgreen Co, Longs Drugs Stores Corp, CVS Caremark Group, AllScripts, Quest Diagnostics and the Cleveland Clinic.
To import their own health data into the service, Google users have to sign up at a partner's site and confirm that they want to link accounts and transfer data to Google Health.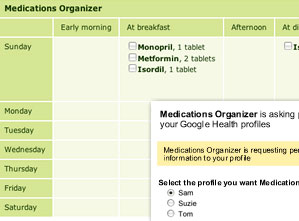 There's also feature to help users find doctors by location or specialisation, as well as a "virtual pillbox" to notify patients when to wolf down their pills and to advise on any possible dodgy interactions between different drugs.
"If anyone can demystify what health is, and make it fun … Google can," whooped Dr. Michael Roizen, chief wellness ("Wellness?!" LOL) officer for the Cleveland Clinic, during the news conference at Google headquarters.