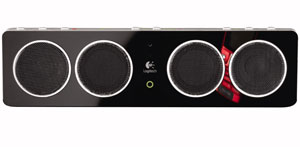 If you're fed up battling with cables that tangle up quicker than a confused Cobra after a crateful of Carlsberg, Logitech's Pure-Fi Mobile speaker system could be the perfect carry-around for you.


The Pure-Fi Mobile speaker system lets you wirelessly hook up your mobile phone – or any other Bluetooth enabled device – and stream music to the compact four-speaker Logitech speaker system.
Using an Advanced Audio Distribution (A2DP) profile, you can keep your phone secure in your pocket and stream tunes to the speakers, even if they're up to 10 metres away from your handset.
The glossy black wireless unit packs 2-inch high-excursion drivers and dual 2-inch pressure drivers, as well as two built-in mics – one to pick up "vocal nuances" and the other to monitor and block unwanted background noise.
There's also call-answer and call-end controls on the top of the speakers so you can accept or end calls without having to frantically rummage in your MC Hammers.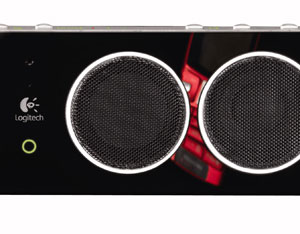 "Millions of people now use a mobile phone to listen to music. If you're one of those people, now you can toss your ear buds aside and pump up the volume," roared Mark Schneider, vice president and general manager of Logitech's audio business unit as he span his baseball cap sideways.
"So when you're at a party, at the park, or just hanging out at home, your mobile-phone music will always sound great when you use the Pure-Fi Mobile speaker system," he concluded, thumping out a table top paradiddle with a pair of the speakers.
PC, iPods and other MP3 player can also be hooked up to the Pure-Fi Mobile by Bluetooth or by connecting them to the built-in 3.5mm audio jack.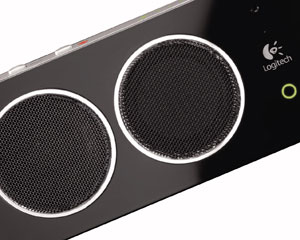 There's also bundled protective case with the speaker system, while the rechargeable batteries promise up to 12 hours of neighbour annoying playing time. There's an onboard battery-life indicator to warn of imminent Rocking All Over The World failure, while the included power adaptor or mini-USB cable can help restore the Status Quo.
The Logitech Pure-Fi Mobile speakers are expected to be Moonwalking up to shelves across the U.S. and Europe from the beginning in June, with a suggested Euro retail price of €149.99. We hope to have a review model shortly.