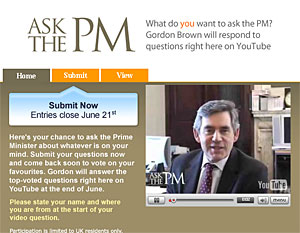 Gordon Brown. perhaps the least dynamic PM since John "yawn" Major, is looking to get down with the Web 2.0 Krew and get all interactive on our PCs.
In an attempt to attract younger voters, the PM is launching an online version of prime minister's questions, promising to respond to video clip questions sent in via the Downing Street YouTube website.
Billed as a "regular event" in the introductory video on YouTube, Brown offers to answer questions on issues such as globalisation, climate change, housing, jobs and public services. And hopefully, the Iraq situation.
"Politicians get a chance in prime minister's question time and other question times – I think it's time the public had a chance," declared Brown in the video.
Perhaps triggered by toffy-nosed Toryboy David Cameron's taunt that Brown was an "analogue politician in a digital age," the PM is keen to appear tech-tastic crazy, with a speaker's appearance already booked for Google's annual conference later in the year, where he is expected to bang on about a promised hi-tech revolution in UK public services.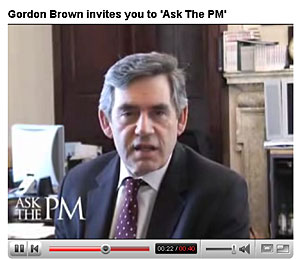 Last month, Brown appeared to be serving up live Twitter updates during his American visit, but the Guardian later discovered that it was actually Mark Flanagan, the PM's head of digital communications, doing the Twittering.
Brown's touchy-feely web interaction comes on the heels of Cameron's matey-matey live webcam broadcasts from his breakfast table, which gave a good impression of the bloke being hip to the latest digital technologies.
The shadow PM already has his own website, Webcameron, which features video footage of himself being smug all over the place.